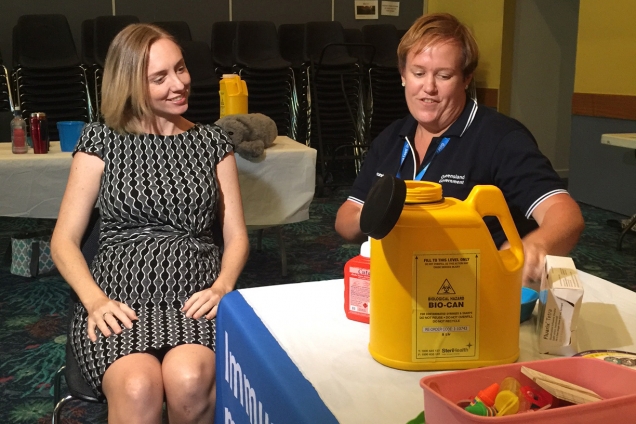 Gold Coasters are being encouraged to get immunised ahead of the upcoming winter flu season.
Gold Coast Health's Public Health Unit is undertaking immunisation clinics across the coast following the release of the new four-strain vaccination.
Dr Paul Van Buynder from the Public Health Unit said early immunisation was particularly important for pregnant Gold Coast women.
"We surveyed hundreds of women who gave birth at the Gold Coast University Hospital over the last 6 months and found that only 71 per cent were aware that they should have a flu shot during pregnancy and of those who were aware only 51 per cent went ahead and had the immunisation," Dr Van Buynder said.
"There's a triple benefit of having the flu shot during pregnancy – you can protect yourself from a severe disease, protect your unborn child from complications in utero and give your baby antibodies to fight flu when it's born."
Gold Coast mum and Gold Coast Health employee Jenn Griffith lined up for her free immunisation at Robina Library today.
"It's been many years since I had my first child and I think a lot more research has been done about the importance of immunisation during pregnancy, which is why I was keen to have my flu shot today," Ms Griffith said.
"As an expectant mum, anything I can do to support the health of my child is a top priority."
Dr Van Buynder said pregnant women and other high-risk individuals such as the elderly and young children can access free flu immunisations through their doctor or immunisation provider.
"This year the quadrivalent vaccine protects against two prevalent 'A' and two 'B' strains of influenza seen during the northern hemisphere flu season and will be key to reducing the spread of these particular strains," Dr Van Buynder said.
"In the first three months of this year we've have had almost 300 cases of influenza confirmed on the Gold Coast and we can expect to see that rise to more than 1400 cases a month during peak flu season.
"While we don't know exactly what this flu season will be like, I'd encourage at-risk Gold Coasters and the broader population to talk to their doctor about their flu shot," he said.
For more information on who qualifies for a government-funded vaccination and the upcoming Gold Coast Health immunisation clinics visit our immunisation page.