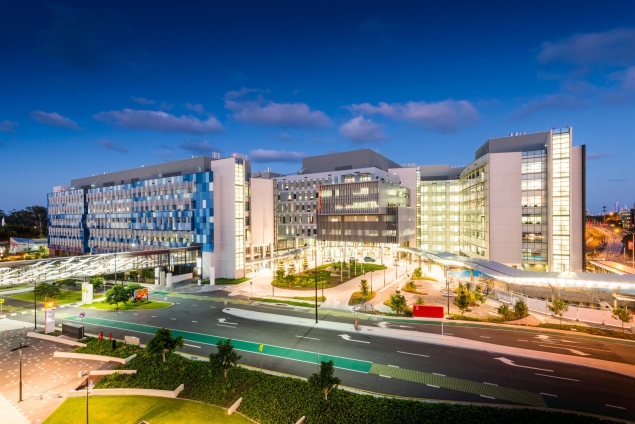 When the Gold Coast University Hospital welcomed its first patients five years ago, the move from the old Gold Coast Hospital was considered the biggest planned hospital move in Australia's history, with 219 patients transferred by ambulance with military-like precision across two days.
The $1.76 billion, 750-bed facility first opened its doors on 28 September 2013 and saw 157 patients in through the purpose-built emergency department, welcomed nine new babies and had 284 inpatients.
Today, the hospital sees an average of 300 people in the emergency department every day, helps bring 14 babies into the world on average and at any one time has more than 90 per cent of funded inpatient beds occupied.
Chief Operations Officer Kimberley Pierce said the demand for the high quality, tertiary-level services available at GCUH has rarely abated in the past five years.
"When we opened the doors, we probably weren't ready for the swift increase in demand that we experienced.
"We had new tertiary level services including a Neonatal Intensive Care Unit, which now allows us to care for babies born as young as 26 weeks, plus we could offer the Gold Coast community comprehensive cancer care, cardiac surgery, an internationally regarded trauma service, nuclear medicine and neuro-interventional radiology for stroke victims," she said.
"In the past, we'd have to send critically ill trauma patients or patients with certain types of cancer to Brisbane for treatment – and now we're able give them world-class treatment right here on the Coast."
"We've seen an almost 30 per cent increase in emergency department presentations since GCUH opened, a 12 per cent increase in the number of babies born and we've grown our workforce by 30 per cent to more than 9500 people who bring an amazing mix of skill and expertise to healthcare on the Gold Coast."
Some highlights of the past five years include:
almost 25,000 births, including 344 sets of twins and 11 sets of triplets
some 495,000 presentations to the emergency department, including almost 120,000 paediatric emergency presentations
more than 10,000 Category 1 patients to the emergency department who require life-saving treatment
well over 1000 cardiac surgeries since the service opened in early 2014.
GCUH is part of Gold Coast Health, which also delivers public healthcare from Robina Hospital, Southport Health Precinct, Varsity Lakes Day Hospital, Robina Health Precinct and other community-based facilities.