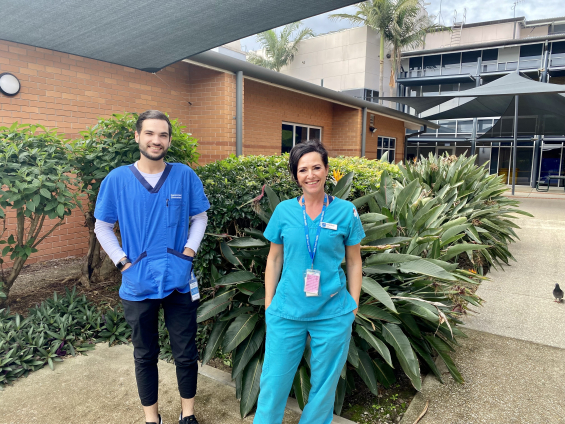 Meet Krisztina and Amberose Kurti, the mum and son nurses who are deeply passionate about helping the most vulnerable members of our community.
Amberose, 25, always looked up to his mum and admired her ability to put others first, so it was only natural that his path into nursing would be greatly influenced by his family.
Five years ago, the family patriarch was diagnosed with an aggressive form of liver cancer and sadly he passed away within six months. At the time, Amberose was pursuing a career as an enrolled nurse and postponed his studies to care for his father and help his mother and sister manage daily demands.
After working odd jobs for a few years and processing his grief, opportunity came knocking and Krisztina encouraged her son to apply for an Assistant in Nursing role in the Complex Management Unit, which just celebrated its first year of operation.
"I absolutely love what I do and the opportunity to work with such a multidisciplinary team is incredible. I feel like I am making a difference; it's the little things that I find the most rewarding," Amberose said.
"The patients on the ward have complex psychosocial and functional needs from Alzheimer's disease, dementia, intellectual disabilities and autism. I assist with patient care including one-on-one monitoring.
"My goal is to return to and complete my studies and hopefully become a registered nurse in the future."
Krisztina has been a nurse for 36 years. She immigrated to Australia in 1996 with her husband and has been working for Gold Coast Health for seven years.
"I work in ICU as an Advanced Skill Enrolled Nurse specialising in equipment, where I set up ventilators and other equipment. I worked in Hungary as a registered anaesthetic nurse, so I also assist with procedures such as intubation and arterial line insertions," Krisztina said.
"Nursing is a lifelong passion. I knew what I wanted to be when I was 14 years old and graduated from nursing school when I was 17. My parents sacrificed a lot to help me achieve my dreams, so when I moved here, I only wanted to be nurse and apply my craft.
"It's so rewarding to have my son work in healthcare, I can't even put it into words," she says.
Recently, the Kurti family welcomed a new baby and Krisztina is proud grandma. She hopes to teach her granddaughter the importance of care and compassion.