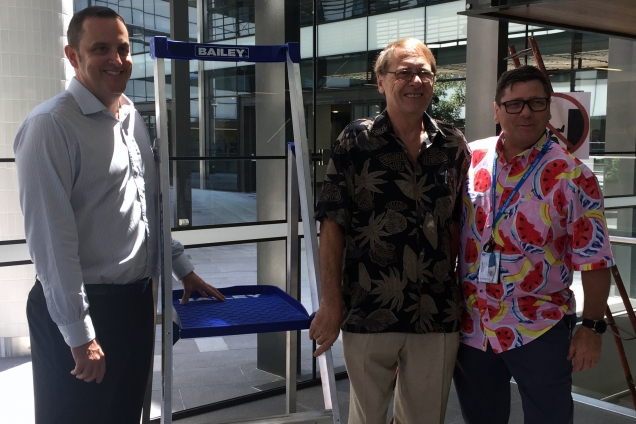 Gold Coasters are being urged to take more care when using ladders and scaffold to access high places.
Gold Coast Health's Trauma Service treated almost a person a week in 2018 as a direct result of falls from ladders, roofs or scaffold. Between 2014 and 2018 there were 279 patients treated who fell from ladders, roofs or scaffold.
Trauma Service Nurse Navigator Matt Scott said a fall from a ladder or roof can be life changing for the patients.
"We commonly see head and neck, or chest injuries resulting from ladder falls and recovering from these traumas can really impact a person's quality of life," Mr Scott said.
"The beginning of the year is a great time to plan your list of jobs to do around the house and this often involves using ladders to access the gutters, trees, high ceilings or the roof cavity or cladding.
"We know that as we get older, it's harder to maintain our balance and we are seeing far too many major traumas that result from ladder falls, so we'd encourage the community to consider other ways to access high places."
It's been a long road to recovery for Robert Hennig, who was rushed to the Gold Coast University Hospital after falling 1.5m from a ladder while blowing leaves from his roof.
"I stepped off the water tank onto the ladder and it collapsed below me, sending me crashing into a large rock on the ground," he said.
"I broke nine ribs and punctured a lung and if it had have been a few inches either way it would have definitely been a spinal or head injury."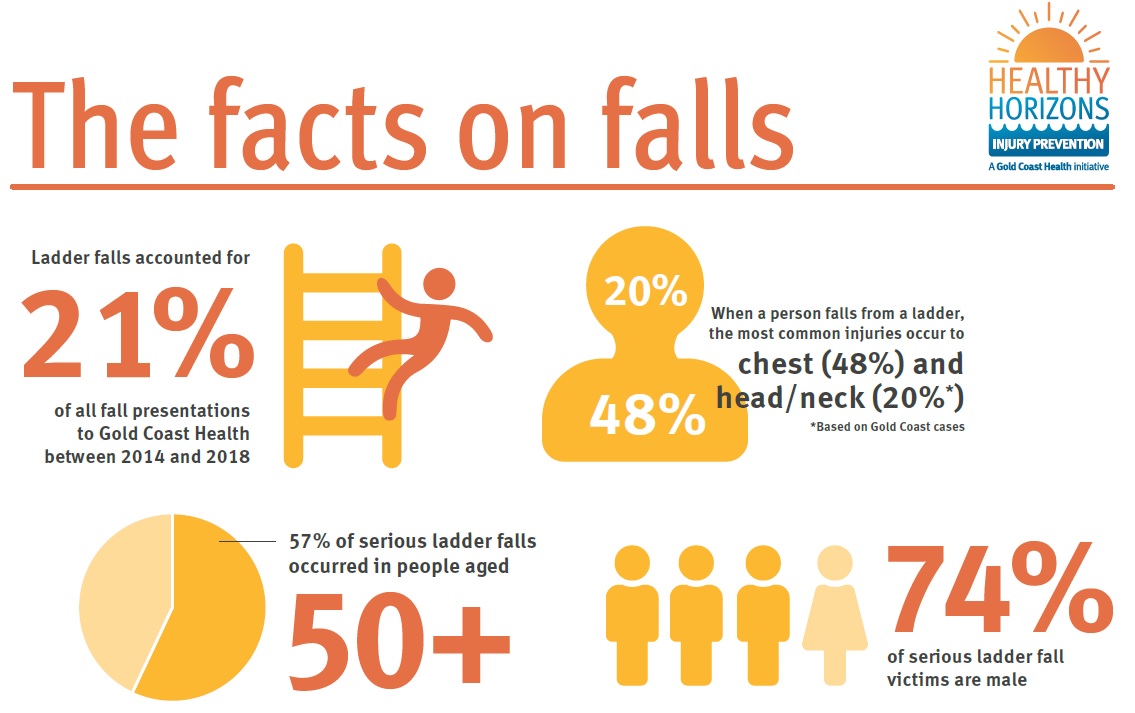 Data collected by the Trauma Service reveals that ladder, roof and scaffold falls accounted for more than 20 per cent of falls-related presentations to the health service between 2014 and 2018. The data also showed that people aged over 50 were more likely to be seriously injured by a ladder fall and that 74 per cent of those seriously injured by ladder falls between 2014 and 2018 were men.
Having manufactured and distributed ladders, scaffolding and fall protection products in Australia for over 60 years, Bailey has seen firsthand the terrible results that are caused by incorrect ladder use. Bailey takes ladder safety very seriously, therefore, have outlined some safety tips to follow whilst using a ladder.
Never over reach and make sure you belt buckle remains centred within the ladder stiles
Maintain three points of contact on the ladder at all times
Choose the right style, size and load rate for the task at hand. We have an excellent on-line selection tool that guides you through this process
Always check you ladder for damage before every use and never use a ladder that has been damaged or has missing parts.
Wear fully enclosed non-slip shoes when using a ladder
Never leave a ladder unattended when not in use
Never use a ladder if you are impaired by alcohol, drugs or illness
Gold Coasters looking to complete home handiwork this year can stop by their local Bunnings store for some advice or check out the ladder display in the Gold Coast University Hospital main foyer until Friday 8 February.
Throughout 2019 Gold Coast Health is putting a focus on the National Health Priority Areas including injury prevention and control, arthritis and musculoskeletal conditions, asthma, cancer control, cardiovascular health, diabetes, mental health and obesity.