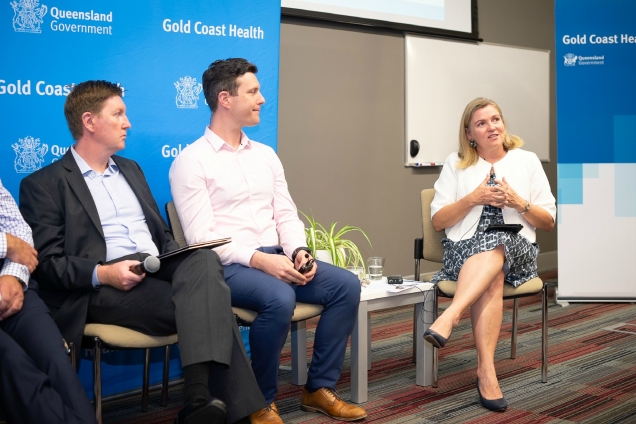 Gold Coast University Hospital (GCUH) has hosted a wide-ranging discussion on the benefits and challenges of moving from paper-based patient information to an electronic medical record (ieMR).
Earlier today, Queensland's Integrity Commissioner, Dr Nikola Stepanov was joined by a heavyweight panel with expertise in law, ethics, clinical research, data security and governance to discuss implications of the move.
"The topic is of particular relevance to the Gold Coast as it prepares its public hospitals and community health services for a statewide ieMR," Dr Stepanov said.
She was joined by five other panellists to discuss the emerging impacts of the digital age on patient care:
Mr Phil Green, Queensland Privacy Commissioner
Mr Andrew Brown, Queensland Health Ombudsman
Mr Damian Green, Chief Information Officer (Gold Coast Health)
Associate Professor Mark Burdon, QUT
Dr Adam Brand, Clinical Director Digital Transformation (Gold Coast Health)
Minister for Health and Minister for Ambulance Services Dr Steven Miles delivered the opening address emphasising the importance of managing health information in the digital age.
"I am committed to maintaining the best possible health system for all Queenslanders and delivering a state-wide electronic patient record is an essential step forward."
"The improvements that well-managed, secure, electronic data can make to patient care are still being understood," Dr Miles said.
Dr Miles said there were many examples of how the electronic record would improve clinical care practices and how the information would be secured.
"Patient privacy is front of mind throughout this process as we move toward a more personalised, streamlined system of care."