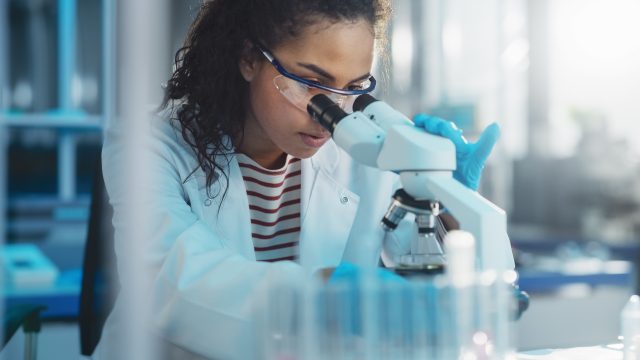 Passionate researchers from across Gold Coast's public health service and universities are preparing to showcase their latest outcomes during the annual two-day Research Showcase on 8 and 9 November.
Now in its seventh year, the Research Showcase has grown as a platform for health and medical research with Gold Coast Health collaborating with university partners and sponsors to present high-quality and clinically relevant research.
A jam-packed program features more than 40 full presentations and lightning talks, the inaugural Research Recognition Awards, networking opportunities and the recipients of this year's Collaborative Research Grant Scheme will be announced.
On the Tuesday afternoon, keynote speaker Associate Professor Clair Sullivan and panel will share their knowledge and understanding of leveraging data to improve patient care and the role of artificial intelligence in the future of healthcare.
A/Prof Clair Sullivan holds a number of key roles in the health research space – she is the inaugural Head of University of Queensland's Digital Health Research Network, Associate Professor of Medicine in Clinical Informatics at UQ, the Clinical Informatics Director for Research at Metro North Hospital and Health Service and recently became Director of the new Queensland Digital Health Centre.
Gold Coast Health Board Chair Ian Langdon said this year's Research Showcase program would demonstrate how the organisation was delivering on its 2022-2024 Research Strategy.
"Our researchers are passionate about uncovering ways to optimise patient care and impact service delivery," Mr Langdon said.
"The outcomes and benefits of our research include new interventions, improved guidelines and service pathways and most importantly empowering patients and their families to be engaged with the care that they receive."
Research posters will be on display in the Gold Coast University Hospital main foyer during November.
Research at Gold Coast Health continues to grow with 11 active research collaboratives and 16 research joint appointments, 67 new research projects, 58 active clinical trials, 399 articles in peer-reviewed journals, and $2.69 million in funding awarded in 2021-22.
Join the Research Showcase virtually or in person at Gold Coast University Hospital's Pathology Education Building. See the event program for session times and registration link.