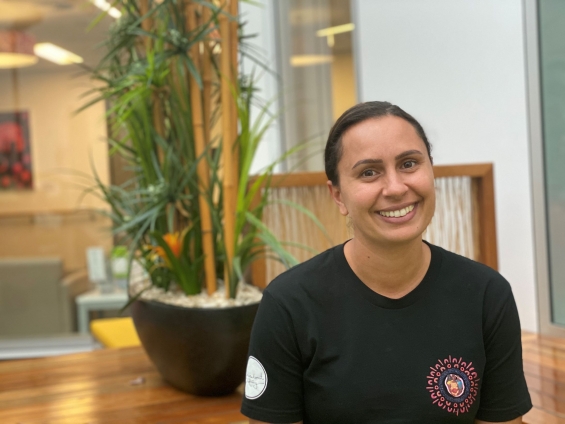 Emily Vella always wanted to work in Aboriginal and Torres Strait Islander health – she just didn't picture it would be as a child health nurse.
"I always envisioned it would be in diabetes or cardiac so I did heaps of study in that," she said.
Emily started her nursing cadetship at the old Gold Coast Hospital more than a decade ago, studying at university at the same time.
She worked cardiac before moving onto the fast-paced Medical Assessment Unit at Robina Hospital.
"Then the child health nurse role came up with Waijungbah Jarjums and it is a bit of a different ball game," she said.
Waijungbah Jarjums is a model of care which pairs midwives and child health nurses who identify as Aboriginal and Torres Strait Islander with families who identify as Aboriginal and Torres Strait Islander.
"I am a Guruma Woman from Robe River Country which is Western Australia, up north. I grew up there until I was about 12. I then came here to Yugembeh speaking Country," Emily said.
"When I was 18, I was quite sick and ended up in hospital. It was the first time I was in hospital and what the nurses did for me was amazing. They empowered me and I thought, I want to do that for other people."
And that's just what she is doing. Emily has been supported by Waijungbah Jarjums to do her grad certificate in child health through the University of Sydney.
As a child health nurse, Emily does child health checks for babies through to two years old.
"It's been an adjustment coming from a hospital setting to a community setting but so rewarding," she said.
"When you have someone who identifies looking after you, that person understands culture, what that means and how that plays a part in the way you raise your children. Our families know they are safe and supported culturally."
March 18 was National Closing the Gap Day and Emily hopes Waijungbah Jarjums will continue to play its role in closing the gap when it comes to health equity.
"I really love this program, it's holistic. It's changing futures," Emily said.