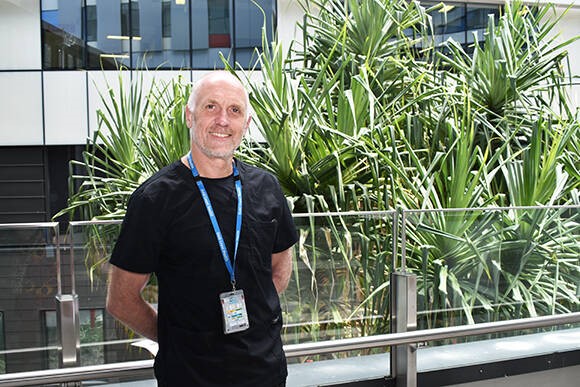 Several Gold Coast Health Emergency Department (ED) staff have been recognised for their humanitarian work in the Philippines, in the aftermath of Typhoon Haiyan in 2013.
The Humanitarian Overseas Service Medal is awarded to members of Australian groups who perform humanitarian work in perilous overseas settings.
One of the recipients, Children's Emergency Physician Graham Jay (pictured), says the experience of the trip will stay with him for life.
"I put my hand up to go after a local charitable group, called Medical Rescue, put the call out for people to go on two-week missions in response to the disaster," Graham said.
"I was on the Alpha deployment, which meant I was one of the first people on the scene. We flew to Tacloban, which was 90 per cent devastated by the typhoon. I had never seen anything like it; every building had been essentially flattened and most of the population were homeless."
Graham said the Medical Rescue team was deployed to Basey, just outside of Tacloban city.
"The hospital had been destroyed, so our mission was to provide two things in the aftermath of the typhoon: emergency first aid, including psychological first aid, and trauma care. We also had to provide more routine care, such as supplying prescriptions and managing chronic disease."
The experience has inspired Graham to do more work like this. He was deployed to Samoa in 2019 to help with a measles epidemic and he is studying for a Master of Public Health and Tropical Medicine.
Other staff who've received the award are ED Registrar Thomas Francis, ED Clinical Nurse Scott Henry, ED Clinical Nurse Jasmine Wadham and Clinical Facilitator Virginia Bagshaw.