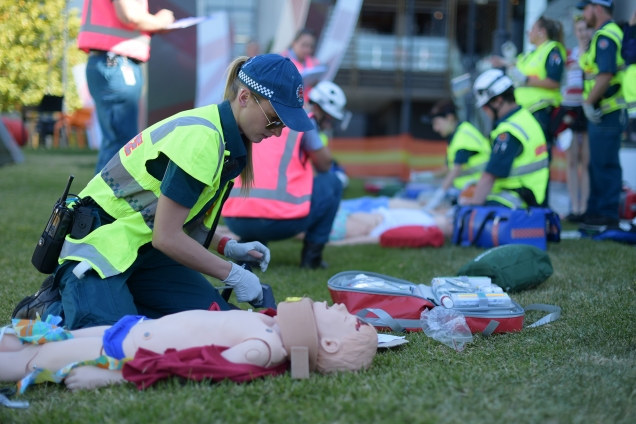 Gold Coast Health today joined with the Queensland Ambulance Service to prepare for and build capability to respond to multi-casualty incidents.
The 'Trauma on the Green' joint training exercise was held at the Gold Coast University Hospital to test the effectiveness of how QAS and Gold Coast Health would expect to respond to a multi-casualty incident.
QAS Assistant Commissioner John Hammond said a multi-casualty incident would typically include a major traffic crash, an explosion or a chemical spill.
"Our training exercise today mimicked a major traffic crash involving multiple vehicles and patients," Mr Hammond said.
"We had four crews responding to this mock incident and our paramedics needed to assess, triage and treat 17 patients before transporting them to the emergency department via stretchers.
"Training like this provides the opportunity to fine tune our response and our interactions with other agencies to ensure the best outcomes for our patients.
"Just last week we experienced a multi-casualty incident when a bus and vehicle crashed in the Numinbah Valley resulting in the need to assess 20 people and transport 17 of them to hospital."
Gold Coast Health director of emergency medicine Associate Professor David Green said the exercise as a valuable way to test triage response at GCUH.
"We are the busiest emergency department in Queensland and one of the busiest in the country, so it's important to prepare for this sort of a mass casualty scenario," Dr Green said.
"While we work with colleagues from QAS every day, testing our emergency department response outside of normal operation is one way the community can have confidence in our processes should an incident occur."
A de-brief was held following the exercise to evaluate and review the execution of processes, procedures and operations.
The training exercise was developed following a review into the 2016 Ravenshoe explosion.
Griffith University School of Paramedicine students acted as patients during the exercise.