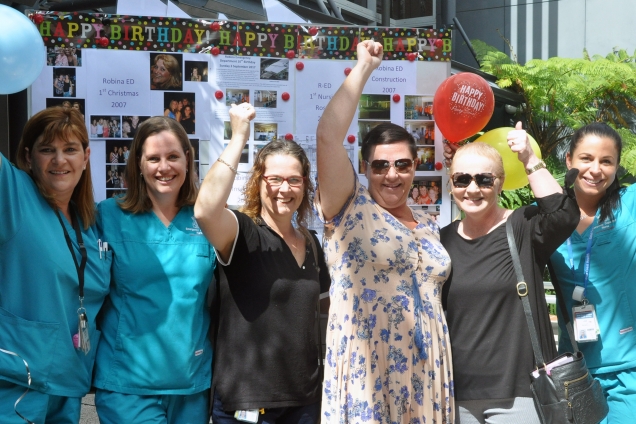 Gold Coast Health today celebrated a decade of providing emergency care at Robina Hospital.
Since opening the Robina Hospital emergency department on 3 September 2007 more than 522,000 people have presented.
Executive Director of Diagnostic, Emergency and Medical Services at Gold Coast Health, Paula Duffy, said the emergency department has grown to be a strong performer in Queensland.
"From nothing we've built an emergency department that consistently tops the state with our national emergency access target (NEAT) performance," Ms Duffy said.
"Robina Hospital opened in 2002 with renal and ICU services and we've since added the emergency department, and other community health facilities.
"At the time we predicted we'd be seeing 50,000 people at emergency within a decade, but by our tenth year we saw almost 62,000 emergency department presentations."
Robina Hospital emergency department director Dr Paul Bowe has been based at Robina Hospital for the past 10 years and has watched the growth in demand.
"We were originally seeing about 87 patients a day, but this has almost doubled with an average of 170 patients presenting to emergency at Robina Hospital in 2017.
"With the demand in presentations doubling, we've also more than doubled our nursing staff from 49 originally to 117 today. Of the original emergency department nursing staff, more than 40 per cent are still with us today," Dr Bowe said.
Acting Clinical Nurse Coordinator, Christine Green, has worked in the Robina Hospital ED since opening and said she's seen an incredible amount of change in the emergency department over the years.
"The biggest changes we've seen are the increase in patients presenting. I think we saw 48 on the first day and we're now seeing more than three times that each day," Ms Green said.
"We used to have no pathology after hours, which really slowed down the process of seeing patients and treating them. Now that we've got 24 hour pathology on site, it really makes a big difference.
"Plus there's things like the building expansions and staff expansions – it's just a really lovely place to work."
The Robina Hospital emergency department was the third expansion of the former St Vincent's Hospital, which was purchased by Queensland Health and opened in June 2002.
Current emergency department staff and former staff will celebrate with a series of events over the coming week.