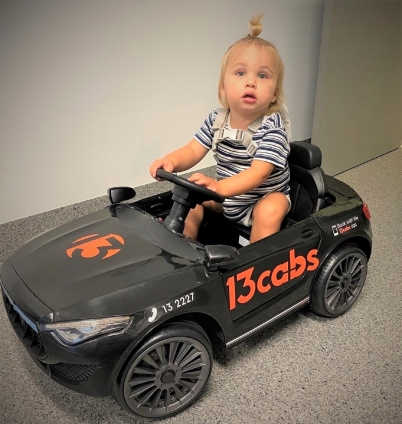 Hospitals can be scary for children, but an electric car donation by 13CABS to Gold Coast University Hospital's (GCUH) paediatric ward will help put a smile on sick kids faces.
The initiative came to fruition thanks to the efforts of clinical nurse Melissa Johnson who wanted to put more fun and less fear into hospital visits for kids.
"The idea behind it is that children can drive the car from the bed to the treatment room, and it will act as a distraction and alleviate some of the anxiety they may be feeling," she said.
"We have some of the sickest kids on the Gold Coast in our wards, and it can sometimes be a scary and anxious time for them. We hope this will brighten up their day and make their time here a little bit more fun."
13CABS Busines development manager Simon Mahoney said that the company was more than happy to donate the car for a good cause.
"The kids love it, and it's just a small gesture that can mean a lot for these sick kids," he said.
Jay Hankey, whose two-year-old twins have had weekly appointments at GCUH since birth and said he loved the idea and was grateful to the hospital and 13CABS for the donation.
"I think it's great. Anything that makes a child's experience more positive in a hospital is a great thing. The staff here do a great job at making it as enjoyable as possible for the kids."