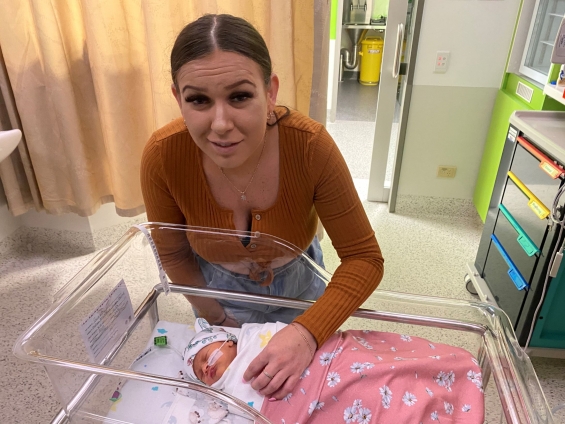 GOLD Coast families who have experienced pre-term births are being reunited earlier thanks to a new Gold Coast Health service which aims to get premature babies home earlier.
After a horror pregnancy, Melissa McKittrick on December 8 delivered baby Scarlett Payne, six weeks before her due date.
"I suffered with hyperemesis (vomiting) quite severely. It nearly killed me in the first weeks I was pregnant with her due to severe malnourishment and dehydration," Melissa said.
"I ended up with a feeding tube myself for about seven months due to not being able to eat or drink. I ended up losing about 32 kgs during the pregnancy so it was a horrible experience to say the least, but it was definitely worth it once she was born."
Baby Scarlett spent time in the Gold Coast University Hospital Neonatal Intensive Care Unit before being moved to the Special Care Nursery.
But thanks to the new Neonatal Early Discharge Service (NEDS), which launched in August, Scarlett was able to have her first Christmas at home in Mudgeeraba with mum Melissa, dad Jordan and her two sisters.
Without NEDS, Scarlett and Melissa would have likely had to remain at GCUH until mid-January.
NEDS coordinator and clinical nurse Lyn Ahern said for babies to be discharged from the Special Care Nursery, they would usually need to have been taken off tube feeding.
"With NEDs, they have still got their nasogastric tube in situ and we send them home teaching their parents how to do their feeds by tube so they can establish their breastfeeding or bottle feed at home," she said.
"Establishing feeding takes time and those babies can be sitting in a room for weeks on end. The mums either have to stay in the room with them or come to and from home which can add a lot of stress on to their already busy lifestyles, especially if they have other children at home.
"To qualify for early discharge a baby has to be about the 35 to 36 weeks corrected gestation and more than about 1800gs. They have got to be establishing some feeding."
Lyn said the service played an important role in bringing families back together after difficult times.
"Some of these mums have also been really unwell and may have spent a lot of time in hospital already which takes its toll," she said.
"What we have seen time and time again is, when the babies get home and they are with their mum they just take off and do so well really quickly."
After a tough year, Melissa had almost given up hope of having her whole family together for Christmas.
"I can't thank the staff enough for how well they have looked after her. They have helped us understand everything and get the through the process of the Special Care Nursery and everything that comes with it and of the stresses and emotions," she said.
Background
• The service was launched on 10 August, 2020
• First clients were accepted into the 20 August, 2020
• 40 babies have gone through the service
• Average length of stay on the service is about 2 weeks
• Gold Coast University Hospital is the first hospital in Queensland to offer this
service