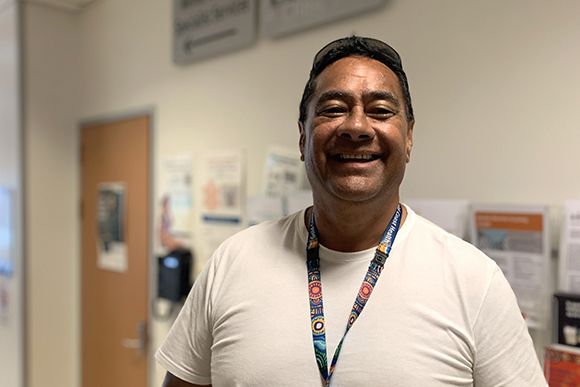 Meet Senior Social Worker Rod Nathan from the Homeless Health Outreach Team (HHOT) at Southport Health Precinct.
The HHOT team has been in place on the Gold Coast for the past 15 years, and are specialists in Mental Health, Drugs and Alcohol. They reach out to the community, visiting outreach centres on the Gold Coast that provide housing services and other services to homeless people.
"We have about 16 members in our team that consist of occupational therapists, social workers, clinical nurses, psychologists, consultant psychiatrist, cycling registrars, and admin," Rod said.
"We all do rostered shift work that starts at 6am through to 9.30pm on a seven-day cycle.
"We start our days with intake meetings to discuss new referrals, acute case managed patients, or other complexed issues related to mental health, our referrals come from within the health service and from the different community services that we work with."
Rod said their priority is to provide support to homeless people on the Gold Coast with health care needs, that often extends to helping them navigate housing and other services.
"Each day is completely different and involves outreach in parks on the streets across the Gold Coast, visiting outreach centres, getting out and talking to people building relationships in the community with the homelessness and homeless services," Rod said.
"There is an element of risk involved that we have to manage where possible to ensure everyone's safety."
Rod said the HHOT team are occasionally called to provide service at the Watch House, and to assist in the Emergency Department with case managed clients.
"Our team's role is incredibly varied. We see people from all walks of life, we do our best holistically to stabilise, reconnect and encourage better lifestyles. This work can be very confronting and at the same time very rewarding," Rod said.
"It is a pleasure to work with such a great team of clinicians in HHOT. The variety and people are what keeps me coming back to this job day after day."