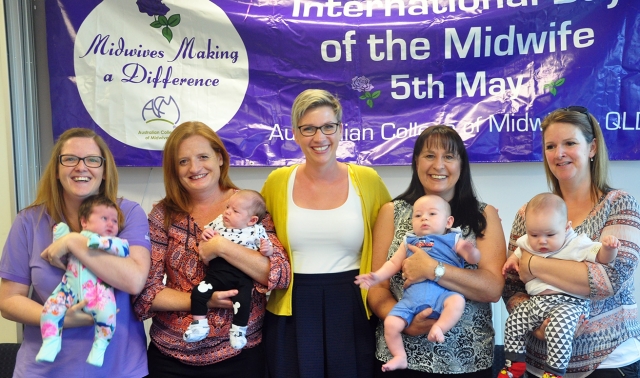 Community-based Gold Coast Health midwifery service Your Midwives Brygon Creek has marked one year of serving Upper Coomera families.
Gold Coast Health staff and families marked the anniversary on International Day of the Midwife – 5 May.
Your Midwives Brygon Creek is a team of five midwives, including a lactation consultant, who deliver antenatal and postnatal care through clinics and home visits for families living in the postcode of 4209.
Acting Midwifery and Nursing Director Sue Rath said continuity of care was a successful model the health service aimed to replicate across the Gold Coast.
"We know the difference midwives make working with women and walking alongside women and their families. Pregnancy is a very important time, a significant life event for women.
"And we know that partnership that we have with our women really does set them up to have a positive birth experience and that continuity of care, which is what we're really focussing on," Ms Rath said.
Since 1 July 2016, Your Midwives Brygon Creek has completed 1500 antenatal appointments, 3950 home visits to new mums and babies and this calendar year it is on track to help 500 families.
International Day of the Midwife celebrates with midwives across the world.
"This year's theme is 'midwives mothers and families – partners for life' and I think that's really appropriate when we look at our one-stop shop here for maternity services here at Brygon Creek, Upper Coomera," Ms Rath said.
Your Midwives Brygon Creek is located at Level 1, 1 Brygon Creek Drive, Upper Coomera. For more information visit www.goldcoast.health.qld.gov.au/our-services/maternity