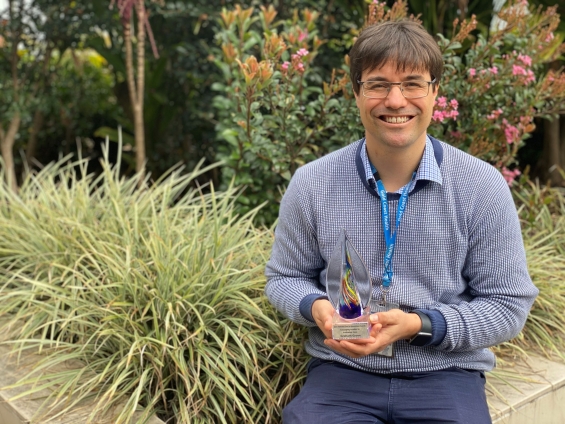 Gold Coast Health's Dr Graham Grove has been awarded the 2021 Emerging Leader in Palliative Care Award but says the credit really needs to go the amazing team he works with.
Dr Grove, who is based at Robina Hospital, is the Medical Director of Queensland's leading Specialist Palliative Rural Telehealth Service, a project that started 18 months ago to deliver specialist palliative care to rural areas. It currently has hubs in Townsville, Cairns, Sunshine Coast and Gold Coast, where teams use technology platforms to provide care in rural and remote regional areas.
Dr Grove and his team offer specialist support and advice to rural doctors and nurses caring for palliative care patients in hospitals and in their homes.
"One of the fun things about setting up the service has been being able to build up the team. I've enjoyed trying to create a good culture where we work hard but are friendly to each other," he said.
"I feel proud of the award. It really did deserve to go to the whole team. This is a service that caters for about 840,000 people. We rely on the dozens of rural nurses we communicate with on a weekly basis.
"We rely on our teams here, in Townsville, the Sunshine Coast and Cairns to all work together. The service would not have succeeded without everyone working together."
The Palliative Care Queensland award is wonderful recognition for a doctor who says he "fell" into this area of medicine.
"I always liked haematology and gastroenterology and was planning on doing one of those two specialties," he said. "When I was finished my training, I took a year off to travel with my wife. Then I felt I wanted to do some work for the church, so I started studying theology and working in a church as an assistant minister."
During this time, Dr Grove worked as a locum and spent a shift in a palliative care unit. He was offered a job and he spent the following eight years working part-time in palliative care while continuing his studies and church work.
"I enjoy the medicine. There can be a lot of medicine in palliative care. Trying to understand why someone has a particular symptom, why do they have pain, why are they vomiting, what's going on? I enjoy the search to discover the reason," he said.
"I like the pace. There's time to talk to patients and relatives about the illness. I enjoy the life discussions about what is happening with the patent's illnesses and finding out what the goals are and what we should be doing. I find those interesting conversations to have.
"I enjoy that we do improve people's quality of life."
External Link
https://palliativecareqld.org.au/emerging-leader-in-palliative-care-graham-grove/