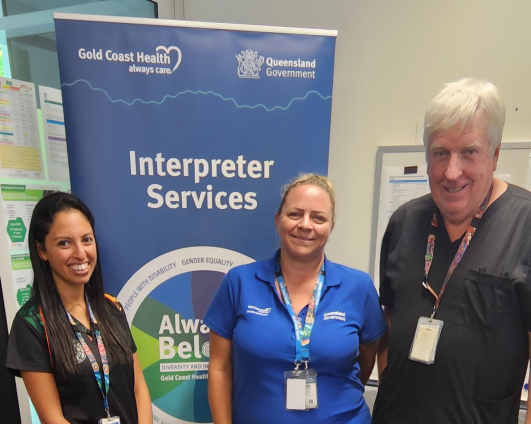 In a Queensland first, Gold Coast Health is leading the way with cutting-edge technology delivering on-demand video access to interpreters.
Robina Emergency Department (ED), Interpreter Services and the Translationz team recently joined forces to provide clinicians with video access to interpreters.
Using trained interpreters has been shown to lower readmissions and limits the possibility of patient misunderstanding, medical misdiagnosis or mistreatment, according to Emergency Medicine Consultant Dr Mona Zaky.
"Rapid communication with patients is an essential part of emergency medicine practice, it is very important as doctors to get the right information when assessing and treating patients," said Dr Zaky.
"When language barriers arise in the ED, being able to reach an interpreter with minimal steps is critical."
The new on-demand video interpreter service has now officially launched at both Gold Coast University Hospital and Robina Hospital emergency departments and is already being accessed by clinicians.
It involves upgraded camera and microphone enabled Workstations on Wheels (WOWs) in ED, providing easy and timely access to interpreters via video on-demand, significantly lowering the risk of misdiagnosis and mistreatment through inaccurate information.
The new service offers a better patient experience by providing a platform for verbal and non-verbal communication in an on-demand service model, placing a medically qualified interpreter virtually in the room with the clinician and patient.