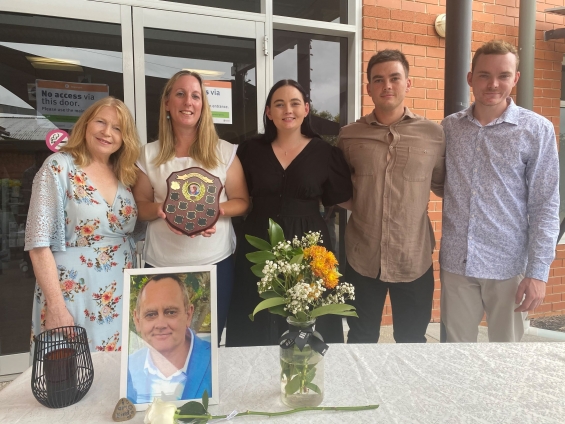 Much-loved Robina Medical Assessment Unit Clinical Nurse Consultant Dean Hamilton was this week remembered by his work colleagues, family and friends in a touching ceremony at Robina Hospital.
Dean passed away earlier this year but his legacy will live on through a new MAU award honouring Dean's commitment to nursing.
Robina MAU Nurse Unit Manager Joanne Little said Dean started with the unit in 2012 and it didn't take long for the team to realise it had attracted a nurse with exceptional skills.
"Dean always had a thirst to improve his knowledge and to make the most of where he was and the circumstances," Jo said.
"Dean had a real love of teaching those that wanted to be taught. He would have nurses lined up to listen to an interesting chest sound and encourage nurses to always develop their acute nursing skills, just like he had continued to do throughout his career. What a champion, wasn't I lucky to have him knock on the door all those years before seeking opportunity with our team?"
"Dean certainly bought a lot more to our team than what I could've possibly imagined."
Jo said nominations were open to nursing staff who acted as a role model and mentor, made a difference to the working lives of others, enhanced the reputation and culture of nursing in the unit, engaged in community involvement and teamwork and those who demonstrated they actively contributed toward ongoing education.
Nominations were submitted by peers with Clinical Nurse Allison Flynn being given the first annual Dean Hamilton Nursing in Excellence Award.
"This award is not taken lightly. Dean had such good values, such a good work ethic and treated everyone with respect." Allison said.
"We never went a day without a laugh. We all miss Dean. We miss his practical jokes. He made our serious work light-hearted."
Dean's wife Marilyn along with his sons Kingsley and Jesse and daughter Holly presented the award and said it was extraordinary to see how the MAU honoured Dean's legacy.
"It's obviously a very challenging role and I always felt he had strengths that really enabled him to take it on really well."
Allison's nomination read:
"Allison is well recognised amongst the MAU team as a leader in her knowledge, skills and professional accountability. She has a calm approach and is always available to support and guide staff to align with GCHHS goals and objectives.
"She is willing to take on the role of mentor to provide the coaching role and reinforce nursing principals so that those that she is coaching can further become confident and successful n their practice. She is a champion for a positive, safe, culture.
"She leads the NSQHS Standard 2: Partnering with Consumers. During COVID she recognised the importance of continued communication with families and initiated a 'phone call diary call back' system.
"She provides positive, constructive feedback that helps builds capacity and knowledge around process and does all of this in a professional manner. She ensures a culture of accountability by providing expectations and goals when leading her pod."