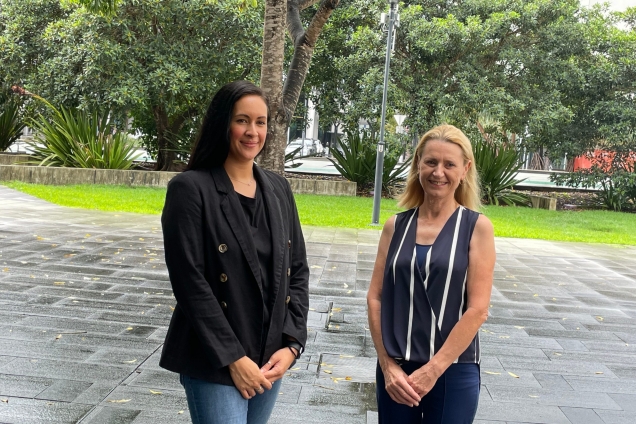 According to new data for alcohol retail during COVID-19, national sales turnover increased by 29 percent from 2018 to 2021, or $3.6 billion. The data from the Australian Bureau of statistics also shows the sales turnover in December 2021 was the highest month on record.
Last year there was a 74 percent increase in people seeking treatment for alcohol use across Gold Coast Health's two Alcohol and Other Drugs Service (AODS) community sites. From January to December 2021 there were almost 250 episodes of care where alcohol was identified as the primary drug of concern.
There were just over 140 episodes of care for the same period in 2020. These figures do not include people who seek help from other services and other community supports such as Alcoholics Anonymous.
AODS Senior Clinical Psychologist Alisii Chittleborough (pictured left) said the data is an opportunity to improve awareness about the signs of problematic alcohol use and the help that's available.
"Alcohol dependence doesn't discriminate when it starts to impact a person's life. Generally, there is a reason behind why someone presents for help. They may have become financially impacted, it's affected their relationships, they're struggling to get off to work, or perhaps their physical or mental health is deteriorating," Alisii said.
"We have a way to go towards breaking down the stigma associated with alcohol use disorder. If someone wants to change the way that they are drinking or are noticing that it's causing issues in their life, we very much encourage them to seek treatment whether it's from our Alcohol and Other Drugs Service or their primary care provider like a GP."
Gold Coast Health Operational Services Officer Carol Jones has bravely shared her own experience with alcoholism to offer hope to others.
Carol, who spent many years fighting alcoholism, is urging those who are on that path not to be ashamed about seeking support.
"I know too well the impact that living at the bottom of a bottle can have on people's lives," Carol said.
"I started drinking with older relatives at the age of 14. Alcohol was a huge part of my day-to-day life, and it took me a long time to realise I had a drinking problem.
"I'm 28 years sober now, and I want to let other people know that you absolutely can make long lasting change for the better with the right resources."
Carol has written her personal account of her alcoholism recovery journey. She hopes her book 'A Sober Lifestyle, Surviving the first two years and beyond', will offer hope to others who are battling alcohol addiction. You can read more about Carol's journey on her Facebook page 'A Sober Lifestyle'.
Queensland Health's ADIS (Alcohol and Other Drug Information Service) is free to call 24 hours a day, seven days a week on 1800 177 833 for information, counselling, and service direction.