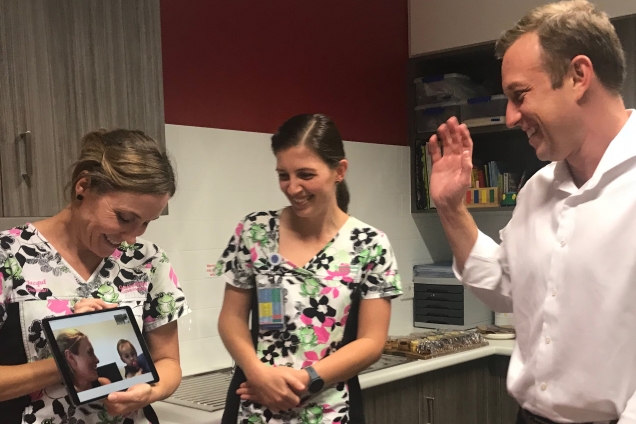 A coaching program which supports infants and children to eat again after being tube fed for medical reasons is enriching the lives of Gold Coast families.
Queensland Minister for Health and Ambulance Services Steven Miles visited Gold Coast University Hospital's Children's Outpatients department earlier this month to see the benefits of 'Netcoaching' for weaning children with tubes first-hand.
Netcoaching children to eat is part of a rapid tube-weaning pilot project which was awarded $100,000 in 2017 through Gold Coast Health's The Improvers, a staff innovation program which rewards winning ideas with the funds to bring the initiatives to life and improve the health service.
"Weaning kids off tube feeding can be life-changing and it's exciting to see how Improvers funding is making that process smoother for patients and their families," said Mr Miles.
"Not only does the netcoaching model promote family-focussed health care, it's improving patient outcomes and reducing outpatient wait times for tube weaning services."
Paediatric Dietitian Jacqui Willcox said netcoaching took the stress out of tube-weaning consultations.
"By offering netcoaching via a video link, families can log into their clinic session from the comfort of their home," she said.
"Parents upload videos of mealtimes before the video link and we offer support and guidance relevant to parent's concerns and clinician's observations of the videos.
"Delivering the netcoaching treatment model has enabled doctors and therapists to see the child in their own environment that is non-threatening to the child and family, whilst providing vital information to clinicians about mealtimes, tailoring the strategies specifically to the child and family, in real time."
So far, 11 children have been weaned since the Netcoaching trial started in September 2018 with a 100 per cent success rate.
One of the success stories from the program is 16-month-old Kayden Ashton-Shorter who was born prematurely at 27 weeks and developed an aversion to the bottle after leaving hospital. Kayden's mum Kristen Carroll says she doesn't know where they'd be without the tube-weaning program.
"We get support from the whole team – we've got everyone – a dietitian, speech and occupational therapist and a psychologist," she said.
"Kayden has worked his way up from soft food and now he'll eat a lamp chop, one of his favourites!"