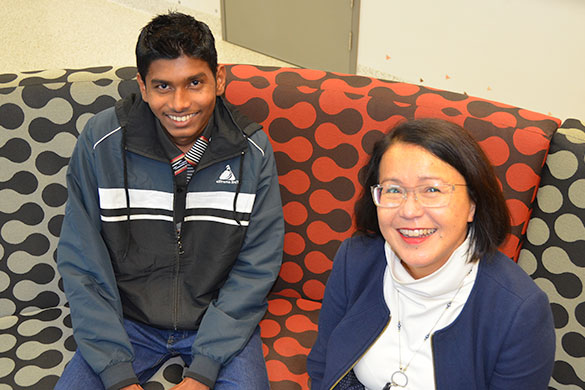 A partnership between Gold Coast Health and Rotary is set to provide international children with world-class care not available in their home countries.
Ajnesh Kumar is the first child to benefit from the new partnership after being flown to the Gold Coast late last month to correct a congenital neck deformity he has had since he was four years of age.
Within four days of arriving in the city, the 15-year-old underwent corrective surgery at Gold Coast University Hospital's (GCUH) Paediatric Surgical Clinic.
Ajnesh and his stepfather were flown from Fiji by ROMAC (Rotary Oceania Medical Aid for Children) and have remained on the Gold Coast for several weeks while undergoing rehabilitation with GCUH's Allied Health professionals.
Ajnesh's surgeon and Gold Coast Health Clinical Director Dr Deborah Bailey said being able to provide safe, quality patient care to those less fortunate was another way Gold Coast Health was able to demonstrate its compassion and integrity.
"In an ideal world, children around the world would have equal access to high quality care," she said.
"To able to make such a big impact on a young man's life like this is very rewarding. Ajnesh has been waiting a long time to feel better and after growing up with this condition, he will need to undergo some intense physio therapy to readjust.
"I am confident that Ajnesh will benefit greatly from this surgery and go on to lead a better life as a result of it."
ROMAC Chair Jill Ellis said the quality of Ajnesh's care at GCUH had made all the difference for the teenager.
"The surgical and rehabilitation team have just been wonderful," she said.
"It's a scary thing for a young boy to be flown to another country to have surgery for something that has affected him his whole life and the staff here have gone out of their way to make the whole process as smooth as possibly for Ajnesh and his family."
Since 1998, ROMAC has flown about 450 children from Oceania to hospitals across Australia and New Zealand for medical care.
Ajnesh returned to Fiji with his stepfather on Saturday.