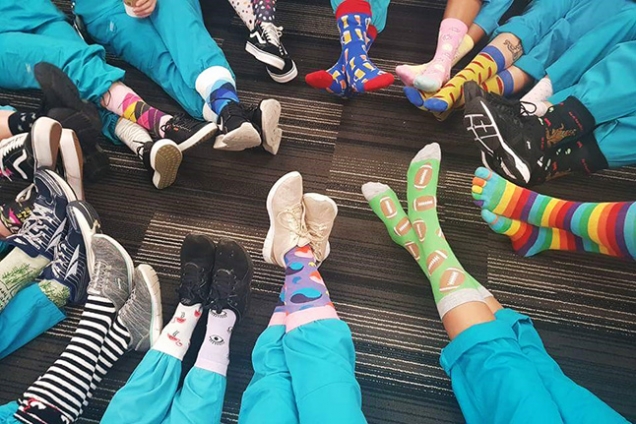 Health professionals across Gold Coast Health are wearing odd, silly and colourful socks to support the mental health and wellbeing of their colleagues today.
June 1 is Socks4Docs Day, acknowledging all those in the medical workforce who are twice as likely to suicide compared to the broader community.
People and Corporate Services Executive Director Hannah Bloch said health is a highly emotionally-charged area; witnessing life and death situations, counselling grieving families, and our workers are the people others turn to for support.

"Our people dedicate their professional lives to looking after others and this can sometimes come at the expense of taking care of themselves and identifying when their colleagues might be struggling," Ms Bloch said.
Crazy socks are used as a conversation starter to raise awareness of mental health issues among health care workers with the goal of changing workplace culture and encouraging health care workers to look out and care for each other.
"Mental health is an area that we seldom speak about with each other in the health fraternity and we want that to change, starting today."
Socks4Docs Day is all about removing the stigma surrounding mental health within the health profession.
The campaign was launched last year by cardiologist Dr Geoff Toogood in response to his own experiences of suffering severe depression, and being asked about his wellbeing only when he started wearing odd socks to work.
Gold Coast Health is encouraging others to join the campaign by using #socks4docs and #crazysocks4docs on social media.