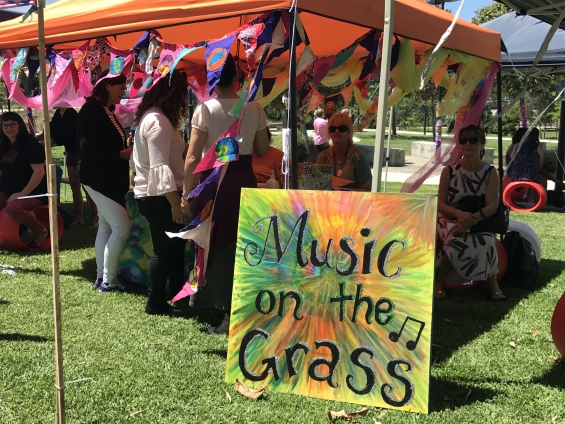 Gold Coast Health's annual event to celebrate the creative strengths of people living with mental illness is set to break new barriers this year.
More than 120 artworks have been submitted for the ArtBeat Music and Arts Festival, an event held during Queensland Mental Health Week every October.
The record-breaking number of artworks range from charcoal sketches and watercolours to collage and sculptures and were created by current and previous patients of Gold Coast Health mental health services.
David is a self-taught artist who is one of three profile artists in 2017. He will have a dozen pieces on display.
"It was with surprise that I discovered the almost euphoric state that I fall into when I am painting. All the world's troubles disappear for a while and it's as if the paint seems to know when to leave the brush and join the canvas," he wrote in his artist statement.
"As an artist I hope this feeling never leaves me."
Gold Coast Health artisan Helen Mason and music therapist Madeline Bridgland connect with hundreds of mental health inpatients across the health service each year offering workshops as part of their treatment and recovery.
"Creativity has a role to play in every consumer's journey toward mental wellbeing and here at Gold Coast Health we've been offering regular music and art interventions to inpatients since the early 2000s," Ms Mason said.
"We find a lot of our patients relax with a paintbrush in their hand and it can lead to a different outlook of their mental health challenges and the symptoms associated with these."
Works in ArtBeat will be on display in the foyers of Gold Coast University and Robina hospitals until 22 October, with voting in a people's choice award category open until Friday, 20 October.
The event culminates on Friday 13 October with a festival featuring live music, bbq, free mental health information and much more.
"Engaging our patients and those who access our community services in a positive event like ArtBeat can be empowering for them – whether that's as an artist performing on stage, manning the bbq or simply meeting others living with a mental illness," Ms Mason said.
Mental Health Week aims to educate the broader community and empower people to ask for help.
Ms Bridgland said the Mental Health Recovery Service adopted a holistic approach to care.
"Music therapy and art helps give voice to experiences and emotions that often remain silent for people with mental illness.
"Our team is super passionate about reducing stigma and ArtBeat has become a really meaningful way of doing this," Ms Bridgland said.
"Every year we get into the festival vibes and celebrate the amazing strengths and talents of people living with mental illness – it's the best!"
Background
Gold Coast Health is committed to providing safe, sustainable, efficient, quality and responsive services to the Gold Coast community.
Mental health services range from acute inpatient to community clinics and outreach programs with specialised services for children and young adult, older persons and alcohol and other drug addictions.
In 2016-17 Gold Coast Health delivered more than 77,000 hours of mental health outpatient clinics, community-based clinics and treatment programs, in addition to 3300 inpatient admissions.
Gold Coast Health operates a dedicated 24/7 phone line for people experiencing a mental health illness - 1300 64 2255 (1300 MH CALL).