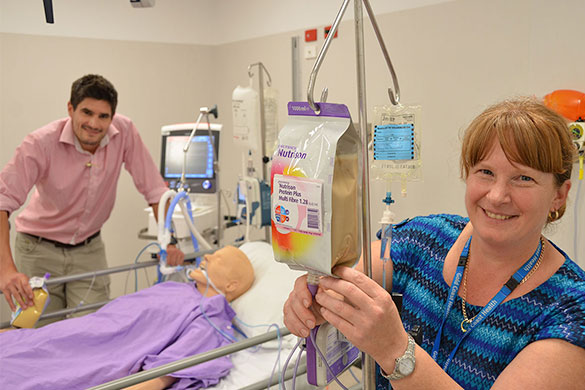 As Gold Coast Health prepares to host its annual staff innovation competition the Gold Coast Bulletin talked to three past winners and their projects and where they are now.
The Improvers recognises that people working on the front line of the health service are best placed to know what innovations will benefit our patients.
Each year five winning projects share in up to $280,000 funding.
Gold Coast University Hospital became the first hospital in Queensland to use the Saebo Arm, which is used in rehabilitating and restoring movement in stroke patients, when Katherine O'Shea was awarded $50,000 at The Improvers in 2014.
Now embedded in the rehab outpatients department, the team mentors other health services looking to invest in the technology.
Also in 2014, Professor Andrea Marshall and Dr David Pearson received $50,000 to invest in technology to help measure the energy expenditure of extremely ill patients in the Intensive Care Unit.
The technology is in full use by the ICU dietician who works collaboratively with Professor Marshall and clinicians to determine accurate nutritional requirements.
"We know if we provide optimal nutrition to critically ill patients, they're more likely to survive and have fewer complications," she said.
Two years on and the team is looking at using their learnings in other wards.
A speech pathology team which received $10,000 funding from The Improvers last year has almost completed the pilot of Aphasia-friendly menus and plans a full rollout on wards from July.
Allied Health and Speech Pathology Director Melissa Lawrie said patient feedback had been very positive and the menus, which include 600 photographs of food and drink items, had increased patient satisfaction and better quality of life.
"It's given the people with aphasia some more independence and they're able to actually choose food and drink off the menu, which previously they couldn't," Ms Lawrie said.
"So in the hospital environment a lot of our patients with aphasia have severe communication problems, they have difficulty reading and writing. So they can't actually read the menu and pick stuff. So someone else picks their foods for them."