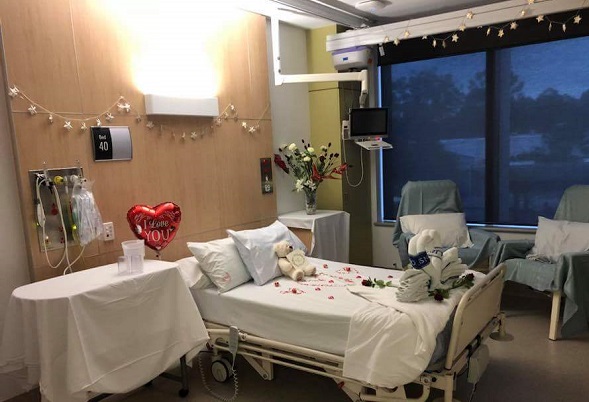 A story on Gold Coast Health's Facebook page celebrating the efforts nursing staff made to fulfil one of the greatest wishes of a terminally ill inpatient at Gold Coast University Hospital (GCUH) has touched the hearts of thousands of Gold Coasters.
More than 2.7K people were reached by the post, which featured how hospital staff helped a man fulfil his dying wish to marry his fiancée.
The post has prompted almost 300 messages of appreciation so far. Among the comments left from the social media community were 'something beautiful, doesn't get much better than this' and 'well done to the wonderful hardworking staff, you made a couple very happy.'
Last week Robina Hospital's Palliative Care Nurse Unit Manager Maureen Tapfield gave ABC Coast FM'S Cathy Border some beautiful insights into some of the recent instances staff have supported their patients' end-of-life goals. You can listen to the full interview here.
"We have the wonderful opportunity to contribute to a memory that perhaps without our support would be quite difficult for the patient and their family due to the progression of disease or because of how they are feeling," Maureen said.
"There was one beautiful wedding that was able to be a special moment for a family at Gold Cold Coast University Hospital and at Robina Hospital we have had the opportunity to share in three weddings. We've also supported the re-taking of vows for a couple and a bar mitzvah, so we're really blessed to have been able to do those things."
"We're very fortunate in the way the unit is established and the insight of Gold Coast Health to be able to provide a beautiful garden and water feature the patients are able to share, to watch the sunset out there in the afternoon and for families to be able to sit out there and have a peaceful moment with their loved ones knowing that we can continue caring for them is all very special."
Gold Coast Health Director of Palliative Care Dr Andrew Broadbent said the dedication of palliative care staff to patient-centred care had shone through in the coverage.

"There are a lot of things we know improve people's quality of life. Perhaps it's about achieving a goal in life and part of our role in the service is to help those people with specialists needs to help make that happen. For some people it's things like weddings," said Dr Broadbent.

"For some their last wish is just to get back into the ocean and that's quite common on the Gold Coast. Sometimes it's about going somewhere on a holiday for the last time and we facilitate a team at the other end for their care.

"I have seen more weddings in two years at Gold Coast Health than I did over 20 years working in Sydney because of the compassion of the staff here and the flexibility of the health service. What it also means of course is staff are listening to patients and their families."

Head to Gold Coast Health's Facebook page to see the post.