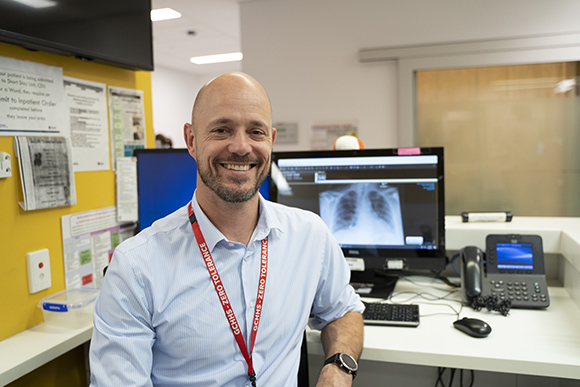 The Australian Clinical Trials Alliance (ACTA) has announced equal winners of the 2021 Trial of the Year - the five-year comparative study into collapsed lung conservative versus interventional treatment, and the ProPSMA prostate cancer study.
Gold Coast University Hospital was one of the top recruiters across 39 participating hospitals in Australia and New Zealand involved in the collapsed lung study.
It is estimated that up to 3,000 Australians present to emergency departments each year experiencing a collapsed lung, or pneumothorax. This condition can be caused by an underlying lung disease or, more commonly, for no obvious reason at all. For decades, standard hospital treatment for a collapsed lung has been interventional, with doctors inserting a plastic tube into the patient's chest to drain the collected air to help the lung reinflate. Not only is this treatment often painful, but it can also lead to organ injury, bleeding, and infection.
The trial recruited 316 patients, of which 154 received the standard treatment of lung drainage, while the remaining 162 were managed conservatively with simple pain relief and observation.
Chief Investigator for Gold Coast Health and coordinator for all Queensland sites, Professor Gerben Keijzers (pictured), said the research impact was long-lasting for a study which received international attention when it was published in the world's leading medical publication the New England Journal of Medicine.
"The results showed that 85 per cent of the people treated with the conservative approach had recovered within eight weeks. The conservative approach also resulted in a significantly lower risk of complications.
"Patients are sent home to recover, return to work and their normal lives and it helps our hospital's bottom line too.
"This research, which was a massive collaborative effort by 100 clinicians across both sides of the Tasman, will change national and international guidelines in years to come," Prof Keijzers said.
ACTA Board Chair, Professor John Zalcberg described the two 2021 winning clinical trials, announced in May this year, as "incredible examples of the exceptionally high calibre of trials currently being led by Australia's clinical researchers".
He said the extraordinary efforts of researchers led to better patient outcomes.
Find out more about Prof Keijzers' work and his colleagues in the Emergency Department Collaborative Research Group on their website.