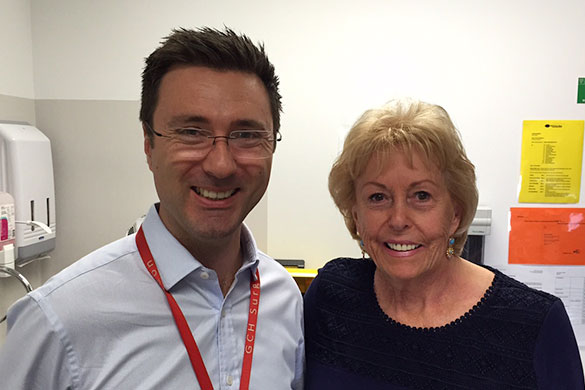 An aim to 'personalise' specific treatment for cancer patients, enabling them to get the most effective drug the first time, is the aim of cutting-edge research at Gold Coast University Hospital (GCUH) and Griffith University.
In collaboration with a multidisciplinary health team at GCUH, researchers from Griffith's Menzies Health Institute Queensland, are establishing a new Personalised Cancer Treatment Program.
With an initial focus on head and neck cancer patients - for whom initial treatment has failed - the work will entail taking a small part of the malignant tumour and putting it into a mouse model. There it will grow and be monitored with ultrasound and live imaging, before being treated with varying drug therapies, in order to determine which is the most effective one to treat a particular patient.
Gold Coast Health Director of Oncology Dr Jasotha Sanmugarajah said the results of the research would prove invaluable for clinical staff and patients.
"This will eliminate the uncertainty we have in clinics determining which drug will work best with each patient's particular cancer and avoid side effects and wasting time and money on incorrect drugs," she said.
Griffith University's Professor Nigel McMillan said while there were many "new and interesting drugs", it was hard to know which were the correct ones for particular patients.
"The current problem is that we have very general treatments that are not specific to an individual's type of cancer and these drugs are killing the good cells as well as the bad," he said. "Most therapies unfortunately have significant side effects.
"However, by looking at the responses to different drugs on the tumour when it is outside of the patient in a surrogate, we can investigate which cancers respond well to which drugs and provide useful feedback to the clinicians in order that they treat the patient in an individual way with the best outcome."
Prof McMillan said the research, which will take advantage of the proximity of the university and the hospital within the new Gold Coast Health and Knowledge Precinct, was aiming to work with 20 head and neck cancer patients by the end of the year.
"The expectation is that this will provide some meaningful results on which to start up a database of suitable treatments for specific human cancers allowing us in the future to more rapidly prescribe the right drug every time," he said.
"Much is being done overseas with regards to establishing a consortium of organisations looking at this type of work and it is very exciting.
"To think that a patient will be assured of getting a drug that is able to kill their cancer is very compelling."
Professor McMillan said that although the work was beginning with head and neck patients, the concept had potential to be applicable to many types of cancer in the future.