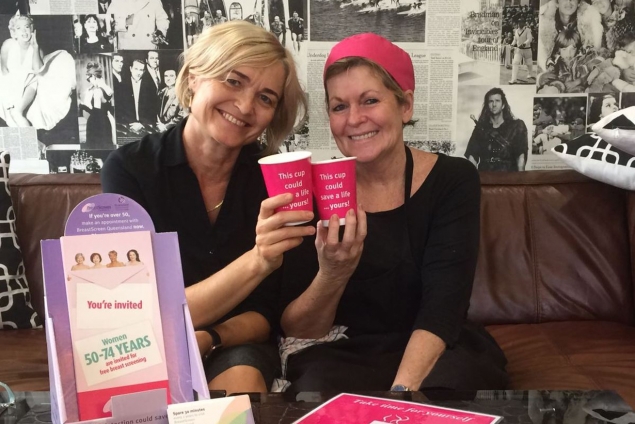 Cafes across the northern end of the Gold Coast are uniting with BreastScreen Queensland to encourage locals to start up a life-saving conversation with the women they care about ahead of Mother's Day on Sunday 14 May.
By agreeing to use specially-made takeaway coffee cups during May, a number of cafes are helping to spread the word about the importance of regular screening in detecting breast cancer early, when it is easier to treat.
BreastScreen Queensland Health Promotion Officer Julia Foreman said the pink coffee cups, which invite people to share the message about breast screening with their loved ones, will help remind women to make time for this important health check.
"Women aged between 50 and 74 are strongly encouraged to have a screening mammogram every two years," Julia said.
"Currently around 45 per cent of local women, in this high risk age group, do not attend Queensland Health's free BreastScreen Queensland program on a regular basis," she said.
"We invite people to have a conversation with their family and friends, to encourage them to stay up-to-date with their breast screening."
Hope Island Deli staff members Angelika Major and Sue Winstanley are keen to get onboard to spread the word about the importance of screening.
"I had my breastscreen recently and have been encouraging other women to get checked," Sue said.
Women are eligible to attend free breast screening from the age of 40 and can go online to register with the BreastScreen Queensland program, update their contact details, and book their breastscreen appointment.
A mobile service is visiting Robina from mid-May until early July, in addition to permanent clinics at Helensvale, Southport and West Burleigh.
An appointment can be made by calling 132 050 or online at www.breastscreen.qld.gov.au
Participating coffee shops include:
Paradise Point - Café 7 and Monsoon;
The Marine Village, Sanctuary Cove - Anchor Bouy Café & Bar, Café Nineteen, Ioesco Café Cucina, Quay Street Café & Bar
Hope Island Shopping Centre - Tiffany's Café & Cocktails, Hope Island Deli, Red Rock Waterfront Bar & Grill.