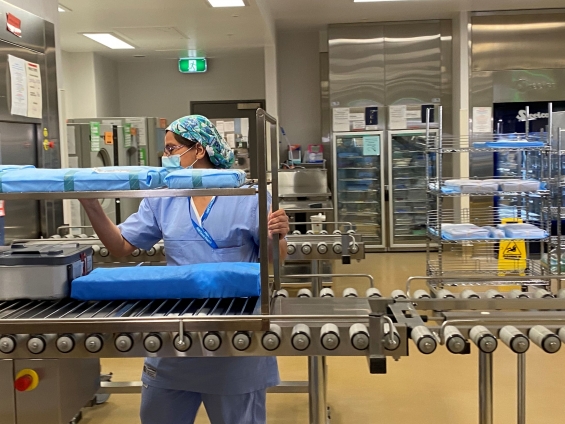 With millions of instruments passing through Gold Coast University Hospital's Central Sterilising Department (CSD) each year, it's no wonder it's known as the beating heart of the hospital.

CSD Nurse Unit Manager Simon Vanderkruik said the team played an essential role in patient safety by ensuring clinicians had the right instruments, which have been processed and sterilised appropriately.

"We have basic instruments such as forceps and scissors through to instruments worth tens of thousands of dollars such as delicate cameras," Simon said.

"The total number of individual instruments sterilised in 2020 in the Gold Coast University Hospital CSD was approximately 2.5 million.

"Our biggest user of instruments is operating theatre and we also do instruments for dental vans, podiatry, speech pathology, emergency department, endoscopy, ICU, outpatients, sleep clinic, birthing suits and Breastscreen."

This busy department takes the used instruments and washes them according to individual care instructions.

Once washed, the instruments are diligently checked, packed and sterilised at 135 degrees celcius, ready for their next use. It's a process that requires an understanding of a huge variety of medical instruments, attention to detail and efficiency.

There are strict Australian standards that have to be met which includes audits, testing the machines used to wash the instruments and strict processes to ensure patient safety.

"It is a 24 hour a day, seven day a week service in Gold Coast University Hospital. We also have sterilising departments in Robina Hospital and Varsity Lakes Day Hospital," Simon said.

"There are about 60 staff who work across the three central sterilising departments.

"While we may not directly interact with consumers, our team is proud to play its part in making sure clinicians have what they need to get great outcomes for our Gold Coast Health patients."

Clinical Director of Orthopedics and Trauma Surgery Dr Mike Thomas said his department would perform about 7500 operations a year.

"Without the good work that Simon and his team does, we would not be able to perform those operations," Dr Thomas said.