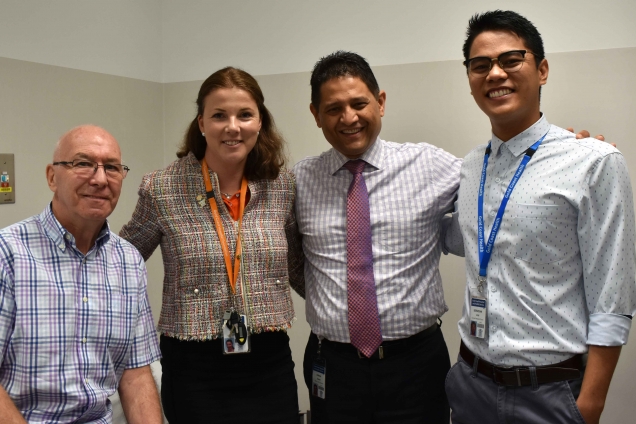 Gold Coast Health researchers are leading a world-first clinical trial into the effects of medicinal cannabis in treating people living with motor-neurone disease (MND) or amyotrophic lateral sclerosis (ALS).
Thirty patients between the ages of 25 and 75 diagnosed with MND in the past two years will be given either medicinal cannabis oil or a placebo over six months, with researchers monitoring the progression of the disease and any changes in pain, spasticity, weight loss, lung function and quality of life.
Leading the study team are Gold Coast Health neurologists Associate Professor Arman Sabet, Professor Simon Broadley and nurse researcher Berzenn Urbi. Collaborate researchers from Duke University, USA, and the International Cannabis and Cannabinoids Institute in Prague, Czech Republic, are also part of the study team.
"ALS, which we know here in Australia as MND, is a neurodegenerative disease that has an unknown cause and we are yet to find a cure," Dr Sabet said.
"This world-first study has the potential to discover novel approaches that may extend patients' lives by managing debilitating symptoms and leading to a delay in the disease progression."
Michael White, aged 72 from Burleigh Waters, is the first patient enrolled in the study which involves taking cannabis oil capsules or placebo daily for 24 weeks.
Mr White was diagnosed with MND in July 2018 and has experienced slurred speech, muscle weakness, fatigue and more.
"When you've got MND there's a lot of people to help you but they can't cure you. Hopefully Dr Sabet and his team, through this study, can uncover something to improve life for sufferers," Mr White said.
Dr Sabet said the comprehensive neurological and diagnostic assessments as part of the study would be at no cost to the 30 participants.
"While most clinical trials in MND focus on finding a cure, studies directed towards symptom management are very limited," he said.
Outcomes from the randomised study could lead to reduction in health care spending on the treatment of MND.
"Medicinal cannabis, if proven effective as a therapy, can reduce the number of hospital admissions and visits for MND patients as they'll be able to manage their symptoms at home," Dr Sabet said.
Gold Coast Health Executive Director of Clinical Governance, Education and Research Jeremy Wellwood said the health service is becoming a hub for medical research.
"At any one time we can have 90 active clinical trials under way and this study is a perfect example of how our talented researchers are directly improving quality of life for patients here on the Gold Coast and across the world," Dr Wellwood said.
The study is funded by Gold Coast Health and Gold Coast Hospital Foundation, through community donations, and is in collaboration with CannTrust Inc.