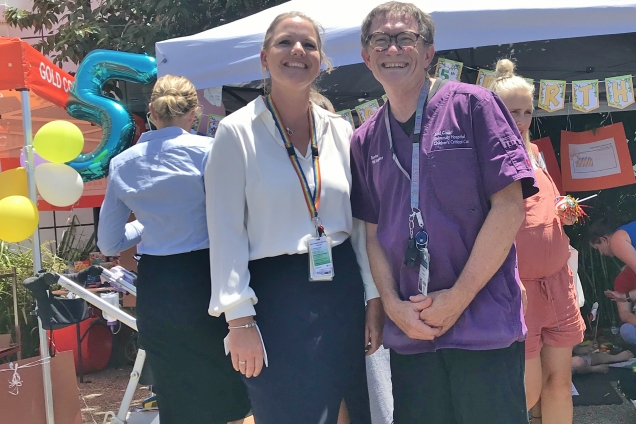 Past and present patients touched by the specialised care provided by Gold Coast Health's Children's Critical Care Unit (CCCU) have joined staff to recognise the unit's fifth anniversary in Gold Coast University Hospital's parklands.
Director of the Children's Critical Care Unit Dr Phil Sargent is among the CCCU staff who have been closely monitoring and providing specialised intensive care for children aged from birth to 16 years of age since the unit opened its doors in 2014.
"The CCCU's fifth anniversary is a golden opportunity to highlight the role the unit and our staff have played for more than 2100 children who have required critical care over the past five years," Dr Sargent said.
"Of those patients, more than 500 were aged between one month and one-year-old, and more than 800 were between the ages of one to five years.
"It's has been wonderful to be able to reflect on the past five years with the families of some of these young patients who came to us due to illness, accident or following surgery."
Women, Newborn and Children Services Executive Director Patrick Turner said the unit's capability to treat young patients with high medical care needs meant more local families have been able to stay closer to home.
"The CCCU has four high-dependency beds, enabling us to care for critically-ill patients many of whom would otherwise have to be transferred to Brisbane for treatment," he said.
"We are very proud of the level of care we can provide these young patients and their families."
Patients are also transferred to Gold Coast Heath's CCCU from hospitals in Bundaberg, Coffs Harbour, Lismore and Sunnybank to be treated for a variety of serious illnesses.
Toby Skok was among the first children to be ventilated in the unit after swallowing a toy egg while in child care when he was 18 months old.
Rather than having to travel to Brisbane for treatment, Toby was transported to the Gold Coast CCCU, located just one kilometre from his home.
"As soon as we arrived, everyone sprang into action around Toby and the social workers popped up around us, so we were completely looked after the whole time," Kristy Skok said.
"The staff were amazing and it made it a lot easier. They were the worst moments of our lives and in some ways the best."