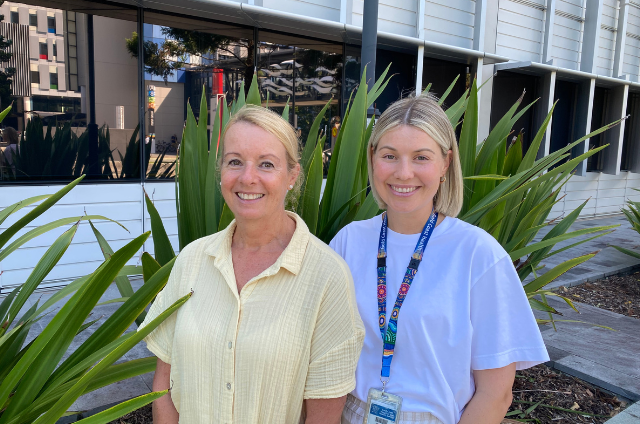 Sue and Nicole may have very different roles within Gold Coast Health, but it's clear they are cut from the same cloth.
Mum Sue has finally realised a lifelong career goal of working in the ambulance field, as a Mental Health Nurse Co-responder in the Acute Care team.
"40 years ago, when I started my career, women weren't accepted into Paramedicine," Sue said.
So, she began in general nursing and received an Overseas Humanitarian Medal for her medical rescue efforts following disasters in the Philippines and Solomon Islands, and later also provided care during Cyclone Yasi in 2011 and Bundaberg floods in 2013.
While taking on many roles, from Nursing Unit Manager and Team Leader to Clinical Nurse Consultant and Project Manager, Sue found herself missing patient contact.
"This role – riding along with Queensland Ambulance Service and treating patients in crisis out in the community – allows me to use the knowledge, skills and experiences I have gained over the decades in a very complete way and have direct patient contact," Sue said.
Nicole admires her mum's unconditional positive regard towards mental health clients.
Nicole said, "I don't necessarily think that is something that can be taught, it is just a part of who she is."
Sue's career serves as inspiration for her daughter, who didn't shy away from the challenges of nursing at one of the biggest and busiest emergency and trauma centres.
At The Royal Melbourne Hospital. Nicole went into action during the epidemic thunderstorm asthma event of 2016, as well as the Bourke Street incident in 2017.
"To have the privilege of caring for the patients involved and to witness the outstanding hospital response was incredible," Nicole said.
While currently on maternity leave, Nicole has most recently taken on the dynamic role of Acting Hospital Nurse Coordinator (HNC) at Robina Hospital.
It's Nicole's job to have her finger on the pulse of all things crucial to the hospital's functioning.
"Every person in the hospital has a role and they know what to do. The HNC role is essentially ensuring those people can continue to do their jobs safely and cohesively," she said.
Mother and daughter pride themselves on being calm communicators – for Sue, it helps to build rapport with patients in crisis, while Nicole builds trust among colleagues right across the hospital.
Two driven women, in different roles, with the same values and professional integrity.