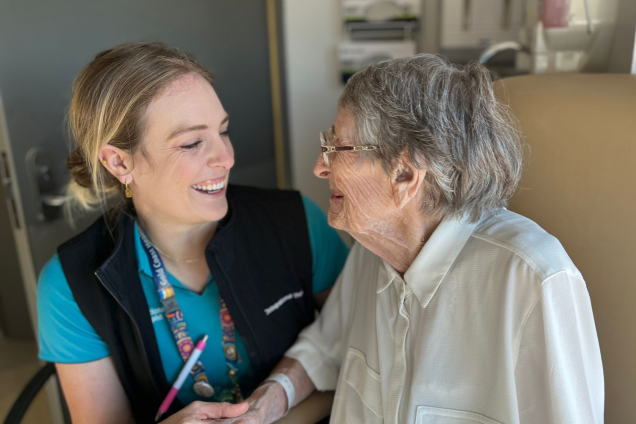 With a distinguished 60-year journalism career behind her, 101-year-old Yvonne MacLean is a wordsmith.
Throughout her career in Melbourne radio, Sydney, and local newspapers she wrote about many a famous or high-ranking person – including singer Kamahl, former Prime Minister, the late Gough Whitlam, and Queensland politician, the late Russ Hinze.
"In those days, a woman had to work very hard to get a Page 1, and that's what you wanted," Yvonne said.
But she would save her most glowing words for Gold Coast University Hospital (GCUH) Rehabilitation Unit team.
When a fall at home saw her admitted to GCUH for six weeks, Yvonne quickly became a ward favourite as she entertained staff with her stories of VIP encounters and political scandals.
"I have experienced the utmost in medical attention, thoughtfulness, caring and skills," Yvonne wrote, "from doctors to senior nurses, younger ones, physios, and caterers. All involved are amazing!"
"One is treated with such respect too," she said.
"How can one name any special person? All are stars.
"My heart and my thoughts will always know you all. You made me live again."
Yvonne is determined to get back to her role as chief storyteller for Nerang Uniting Church.
Her church community is Yvonne's sole family, and her parting words for her beloved hospital carers are tinged with regret.
"Never, never put a career before love and marriage. Print that!" she said.