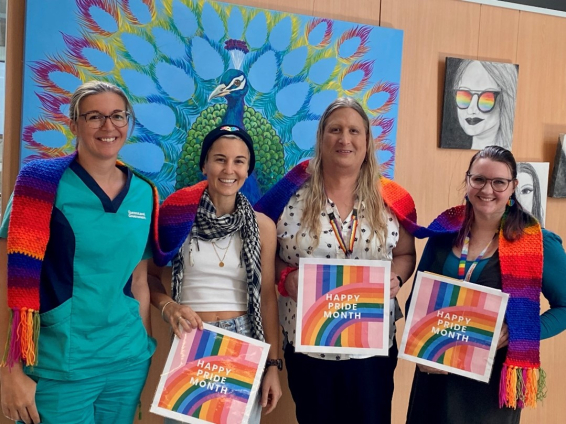 Pride represents the dignity, self-affirmation, equality and increased visibility of the LGBTIQ+ community. It's the key driving force behind most LGBTIQ+ rights movements, including the advocacy for fair workplace treatment. The celebration of PRIDE is about acknowledging diversity and raising awareness about the issues faced by the LGBTIQ+ community.
This year, Gold Coast Health's Creative Health Hub is celebrating PRIDE with an exhibition, embracing the heart of PRIDE through art. The display showcases work from artists within the GCH Rainbow Alliance Network, as well as our wider LGBTIQ+ community including Nina Mitens, Alison Butcher and Alysha Zara.
Alison Butcher, one of the participating artists, speaks about PRIDE with a deep sense of personal connection. She views PRIDE as a celebration of individual journeys and communal progress. Alison's photographic works, "Cycle of Change" and "Healing", depict her personal transformation and journey to self-acceptance.
"Growing up in the 80's before the internet I thought I was the only one like me…If I can achieve anything, I hope to inspire younger people to love themselves for who they are and to be true to themselves," said Alison.
Nina Mitens is an Arts Therapist, Counsellor, and multi-disciplinary artist, who uses creative expression to explore the unspoken subconscious and societal 'grey areas'. Their abstract work is a reflection of personal experiences with mental and physical illness, the process of gender and sexual identity alignment and the recent diagnosis of ASD, ADHD, and C-PTSD.
Through their work, Nina invites viewers into a world that is both beautiful and chaotic and gives permission to those who feel unseen, or whom question the role of 'innate creativity' in our human experience.
Alysha Zara's series "Love is" shares her experience as a queer woman navigating love and identity. From "Love is Blind" symbolising self-discovery in the queer community, to "Love is Proud" representing the courage required to live and love openly, her graphite and charcoal drawings portray the complexity and bravery of love and identity within the queer community.
To further celebrate PRIDE, Creative Health has joined with Clare Brooks to develop a collaborative artwork experience for all Gold Coast Health staff to get involved in. The Gold Coast Health Proud Peacock project provides an opportunity for staff to come together, express themselves and show solidarity for the LGBTQ+ community.
Clare's vision is to promote unity and solidarity within the GCH workforce by engaging everyone in the creative process. "By participating and painting a rainbow peacock feather, I hope staff will show their solidarity to our LGBTIQ+ colleagues, mix with new colleagues and feel the sense of community within Gold Coast Health," said Clare.
Creative Health Hub is honoured to help share these diverse stories, experiences and artistic expressions in response to PRIDE, with the hopes to inspire healthy conversations about inclusion, acceptance and diversity.