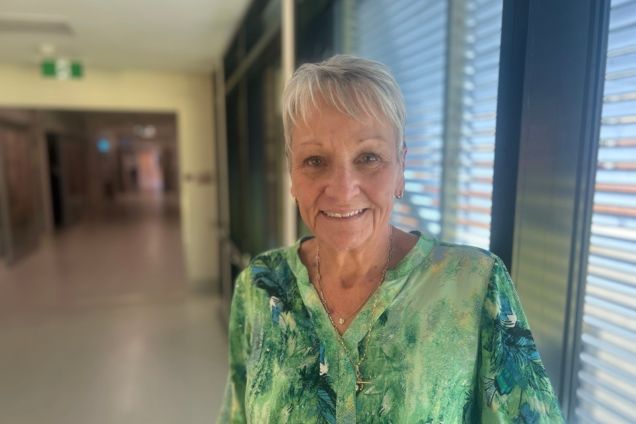 Robina Hospital's Perioperative Registered Nurse, Jenny Davis, remembers how proud she was on graduation night back in July 1976.
"I was in my red cape, big nursing veil, and holding the candle as I recited the Florence Nightingale pledge," she said.
This month, Jenny celebrates 50-years in the nursing profession, and welcomes an adventure-filled retirement.
"After 50 years of nursing, and 19 of those spent with the Gold Coast Health Service, it's time to hang up my scrubs and retire," Jenny said.
While Jenny is excited for new adventures, she will miss her Robina Hospital family.
"I have worked alongside the most dedicated and caring people I have ever met. I have made lifelong friends,"
Jenny began her career in nursing at Tamworth Base Hospital in 1973.
"I was a young country girl with a passion for caring for those in need. After six weeks of block training, I was let loose onto the wards after perfecting the art of mitred corners on the bed linen," Jenny jokes.
During those early days, all trainees lived in the nursing quarters.
"We were 17-year-olds living away from home for the first time, and strong bonds were formed over new experiences we all shared. It was a special time," she said.
Jenny's first placement as a Registered Nurse was in the operating theatres at Tamworth, where she gained experience in many roles as an anaesthetic, recovery, and scrub/scout nurse.
Jenny worked in a variety of wards, including Open Nightingale wards.
"I was especially drawn to the specialised units of the Operating Theatres, ICU and A&E," she said.
"It was an honour and privilege to work with such dedicated and caring teams in my career. Nursing has given me many opportunities to advance my knowledge and skills," she said.
Jenny has seen many changes to the healthcare sector during the past 50 years, such as the introduction to computers, laparoscopic surgery, robotic and computer assisted surgeries, and advances in medicine.
"It has been a pleasure playing a part in better patient outcomes. I am going to miss it," she said.
From the Gold Coast Health team - thank you, Jenny. Congratulations on your amazing career and best wishes for your thoroughly deserved retirement.