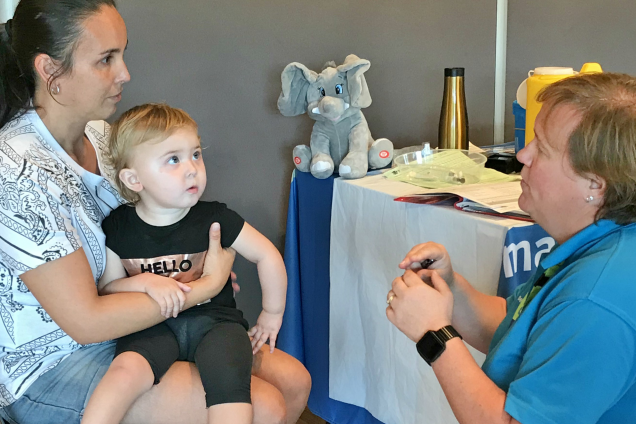 Gold Coast's Public Health Unit has launched a campaign to lift the city's childhood immunisation rates.
The campaign, announced by Health Minister Steven Miles in July, is targeting families with children aged three months to five years whose immunisations are overdue.
Minister for Health and Ambulance Services Steven Miles said he asked Queensland Health to increase immunisation in the Gold Coast Hinterland where rates are low.
"Kids in these areas are at risk of serious illnesses caused by vaccine preventable diseases," Mr Miles said.
"This program will target areas with very low rates of childhood immunisation by contacting parents and families by phone and encouraging them to visit a free health clinic or, if needed, even visiting them in their home.
Member for Gaven Meaghan Scanlon said parts of the Gold Coast have one of the lowest immunisation rates for one-year-olds in the country, with 86.2% of children up-to-date with their vaccinations.
"The program is aiming to ensure that children 3 months to 5 years who are overdue for immunisations are offered options to get up to date with immunisation," Ms Scanlon said.
"Gold Coast clinicians are doing everything they can to get our kids vaccinated. I'm also asking Gold Coast leaders and the community to do everything they can to speak up and help convince parents to vaccinate their kids."
Public Health physician Dr Anu Anuradha said the aim was to boost childhood immunisation rates on the Gold Coast to 95 per cent, the national target to stop the spread of vaccine-preventable diseases.
"By immunising your children, you are protecting the most vulnerable in the community – babies and the elderly," Dr Anuradha said.
"We need you to help us protect them."
Latest data from Australian Institute of Health and Welfare (2016-17) shows:
93.1 per cent of one-year-old children on the Gold Coast were fully immunised
91.2 per cent of two-year-olds
92.2 per cent of five-year-olds
As part of the renewed immunisation push, parents and carers of young children identified as overdue on the Australian Immunisation Register will receive a phone call from 13 HEALTH to discuss the status and immunisation options.
"There may be any number of reasons why a child is overdue for their immunisation. When they're speaking with parents, 13 HEALTH is finding reasons as simple as they missed a clinic or appointment because of a sick sibling or mum and dad are busy or weren't aware of out of hours clinic options".
"Parents are then invited to attend one of our free community clinics or to see their GPs, for immunisation catch ups.
"If they are unable to attend one of those, we are able to offer a one-off in-home immunisation service up until February 2019," Dr Anuradha said.
Gold Coast Health will run 42 free clinics from Helensvale down to Burleigh Heads between September 2018 and February 2019.
"We're making immunisation as easy as possible for families through community-based family friendly clinics.
"Our clinics often have a doctor present, don't require an appointment and there are also extended-hours clinics available for working families."
The National Immunisation Program Schedule includes free vaccines at:
Birth
Two months old
Four months old
Six months old
12 months old
18 months
4 years old
In Queensland, all children from six months to five years of age are also eligible for a free influenza vaccination.
For the schedule of Gold Coast Health's free clinics visit ImmuniseGC