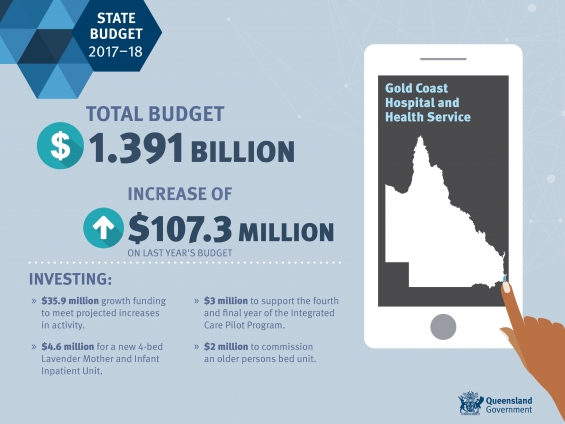 Gold Coast residents will continue to receive quality health care and hospital treatment with a $107.3 million funding boost to Gold Coast Health as part of the 2017-18 State Budget.
The new budget of $1.391 billion is 8.4 per cent more than the 2016–17 operating budget of $1.283 billion.
Gold Coast Health Chief Executive Ron Calvert has welcomed the additional funding to support the Gold Coast community.
"Subject to approval through the Parliamentary process, Gold Coast Health is pleased to have a very fair deal and we look forward to delivering on our contract with the department in the next year," Mr Calvert said.
Significant investments for the Gold Coast in 2017-18 will include:
$35.9 million in growth funding to meet projected increases in activity, addressing increasing emergency department presentations, outpatients and elective surgery
$6.2 million state funding to support initiatives aimed at the reduction of specialist outpatient long waits including a focus on patients waiting for an Ear Nose and Throat appointment
$5.9 million to deliver additional gastrointestinal endoscopies to meet the growth in demand associated with the national bowel screening program
$4.6 million for the new Lavender Mother and Infant Inpatient Unit (4 beds)
$3.0 million to support the fourth and final year of the Integrated Care pilot program
$2.0 million winter beds funding to assist with increases in emergency department presentations over the winter period
$2.0 million recurrent funding to commission an older persons bed unit.