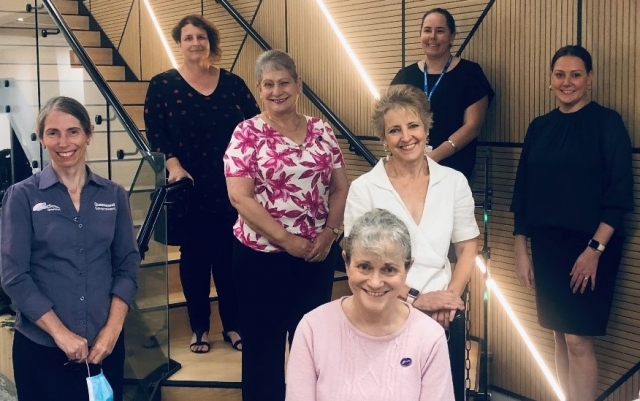 BreastScreen Queensland Gold Coast Service is celebrating 30 years of providing quality care for the local community.
The breast screening service has come a long way since its inception when fewer than 4000 women were seen across the first year in the former Gold Coast Hospital X-ray department.
Dr Lesley Robertson was tasked with establishing BreastScreen services on the Gold Coast three decades ago, alongside Dr Robyn Laver and the late Dr Barbara Craig.
Thirty years on, Dr Robertson, who still works at the local BreastScreen as a medical officer, has witnessed many developments and achievements.
"From humble beginnings within the hospital, our services have grown substantially. We now have four permanent clinics in community settings, a mobile service that visits seven venues annually, and a monthly staff clinic at Gold Coast University Hospital," Dr Robertson said.
"Having more venues, including clinics within shopping centres, increases accessibility and makes it easier and more convenient for women to attend regular screening.
"Last financial year, BreastScreen Queensland Gold Coast Service saw a record number of clients with almost 35,000 women screened and more than 1500 women visiting the Southport Screening and Assessment service for extra tests."
"We hope to see many more women accessing this free service, particularly women aged between 50 and 74 – the age group where the evidence of screening benefit is strongest."
Only 51% of local women aged 50 to 74 regularly participate in the BreastScreen program.
Since 1991, the local service has provided more than 743,000 breast screens and diagnosed more than 3700 invasive breast cancers. In 2020, more than half of the breast cancers detected at the Gold Coast Service were small cancers (≤15 mm in size).
Regular screening helps save lives by finding breast cancer in its early stages when it's easier to treat. Breast cancers detected through BreastScreen Australia have a 54–63% lower risk of causing death than those diagnosed in women who have never been screened through the national screening program.
Dr Robertson has seen many improvements and changes over the years, including a shift from wet-film processing to digital mammography and tomosynthesis (3D-mammography) used as part of the suite of follow-up tests provided.
Technological advances have helped women to receive their results faster, enabled digital X-ray images to be read by specially trained doctors from across Queensland, reduced follow-up procedures, and improved the detection of early breast cancers.
Dr Robertson has observed increased breast cancer awareness and acceptance of breast screening by local women and health providers, and noticed more men supporting their partners during their BreastScreen visit.
While there have been many changes, some things have been constant. The BreastScreen program, delivered by Gold Coast Health in conjunction with Queensland Health's Cancer Screening Unit, remains committed to continuous improvement, maintaining high standards of care, and achieving national accreditation.
The multi-disciplinary BreastScreen team strives to provide client-centred, compassionate care. The local team is highly trained and experienced, with many staff, like Dr Robertson, who have worked with the BreastScreen program for a considerable length of time, and newer team members who bring fresh ideas and skills.
Gold Coast Health would like to thank the local community, and hundreds of volunteers, contractors, and staff, who have contributed to the lifesaving work of the BreastScreen team over the years as it celebrates the 30-year milestone.
External Link
https://www.breastscreen.qld.gov.au/find-a-location