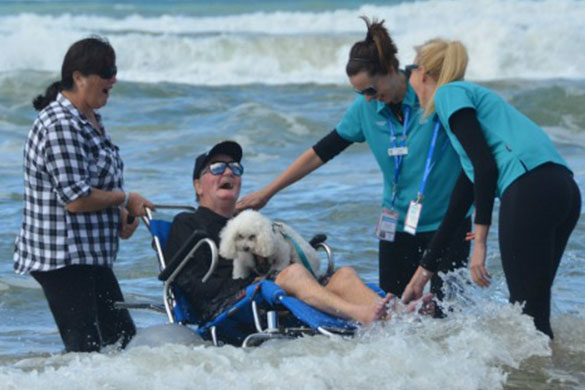 For almost three years Tony Lambert has yearned to feel the ocean on his skin. Now, thanks to Gold Coast Health's annual staff innovation competition and a commitment from Health Minister Cameron Dick, his dream has come true.
Mr Lambert has become the first Gold Coast Health palliative care patient to benefit from the purchase of four beach wheelchairs that will allow terminally ill patients to once again enjoy one of the city's greatest assets.
The Community Palliative Care team – along with Mr Lambert - pitched the concept at the final of The Improvers, an event where Gold Coast Health staff compete for a share of up to $280,000 to turn their innovative ideas for better patient care into reality.
As one of this year's judges, the Health Minister was so moved by their presentation he unexpectedly announced a Special Ministerial Award of up to $50,000 to guarantee the purchase of the four chairs.
Gold Coast Health Director of Palliative Care Dr Andrew Broadbent said the beach wheelchairs were an example of staff leading the way in patient-centred care.
"This type of project is exactly what The Improvers initiative is all about – our staff driving ideas and embracing innovation towards one goal – improving patient care," he said.
"We are thankful to the Minister for investing above and beyond for those people who are facing life-limiting illnesses here on the Gold Coast."
Diagnosed with motor neurone disease in 2014, Mr Lambert has since had limited mobility. When he visits the beach with his family, he looks at the ocean from his wheelchair on the path.
Now he will be able to be submerged in shallow waves as Gold Coast Health's latest assets are made from marine-grade stainless steel and can be pushed across sand.
"This means so much to me," Mr Lambert said. "I've had my swimmers ready for weeks and I know these wheelchairs are going to make a huge difference to more patients than just me."
Gold Coast Health Community Palliative Care Team Leader Julie-Ann Hendry said with about 400 clients presently registered with the service – and more than 1000 supported each year - the team was extremely grateful for Mr Dick's generosity.
"We do a lot of good work around practical support in a client's home, setting up equipment, nursing support and consumables such as medications and dressings," she said.
"Now it's really exciting we are able to offer our clients community access back to the beach. The beach wheelchairs fit in so well with our vision to improve the quality of the remainder of their life.
"It's joyful to give them hope that they may be able to once again visit the beach and allows us to momentarily shift the focus from the disease burden."
In addition to the inpatient palliative care ward and inpatient-based Consultancy Liaison team, Gold Coast Health has a specialist Community Palliative Care multidisciplinary team of approximately 15 staff, including doctors, nurses and allied health, who visit