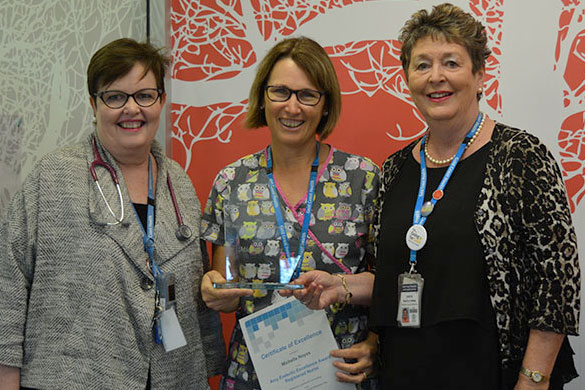 Gold Coast Health has paid tribute to the thousands of nurses and midwives who go above and beyond in the call of duty to care for Gold Coast patients.
Each year the health service uses International Nurses Day to acknowledge the crème of the crop in the Nursing and Midwifery Excellence Awards.
Professor of Nursing and Midwifery Dr Anita Bamford-Wade said Gold Coast Health nurses and midwives were the backbone of the service delivering healthcare to thousands of Gold Coast patients each year.
"Globally there is a crying need for nurses and midwives. We are privileged to work in a first world country so we need to recognise what we have here and also look at how can we develop the professions and contribute globally.
"Today is a day all about nurses and midwives and an opportunity to celebrate their tireless contribution to our health service."
This year the inaugural Karen Wallen Education and Research Award was presented in honour of a Gold Coast Health Nurse Educator who died in September 2015 after 32 years in nursing.
Winner Nicole Graham is a Nurse Educator who uses her solution-focused skills to teach and mentor others in the workplace.
"Nicole has taken the opportunity to move outside of her primary practice area of mental health to experience education roles across general clinical areas," a colleague wrote when nominating her.
Michelle Noyes, who won the Amy Enderlin Award for Registered Nurses, works in haemotology oncology services caring for children with cancer.
"Michelle exemplifies everything every nurse wants to be – she is kind, caring, empathetic, highly skilled and is passionate about providing the best care for children and their families. She is tireless in advocating on their behalf," her nomination read.
The 2016 Nursing and Midwifery Excellence Awards winners were:
Nurse of the Year Award (people's choice presented by Rotary Club of Robina)
Maggie Livingston - Adult Mental Health, Robina Hospital
Amy Enderlin Award (nurses and midwives)
Registered Nurse: Michelle Noyes - Children's Haematology/Oncology GCUH
Enrolled Nurse: Dorothy Lambert - Adults Outpatients GCUH
Assistant in Nursing: Jennifer Burrough – GCUH
Elizabeth Moore Award (nurses)
Belinda Gray - School-Based Youth Health, Southport Health Precinct
Juanita Hynes Award (midwives and nurses)
Janette Mollee – Maternity Services, GCUH
Anne Baker Award (midwives)
Margaret Alcock – Newborn Care Unit, GCUH
Mental Health Award (nurses)
Michelle Stankiewicz - Recovery Service, GCUH
Karen Wallen Education and Research Award (nurses and midwives)
Nicole Graham – Mental Health and Specialty Services, GCUH
International Nurses Day is celebrated around the world every May 12, the anniversary of Florence Nightingale's birth, while International Midwives Day is marked on May 5.