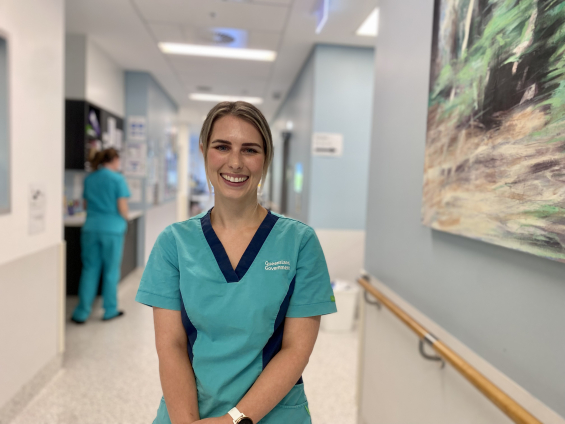 Gold Coast Health's nurse-led colposcopy service has welcomed its third therapeutic and diagnostic nurse colposcopist to its dedicated clinic.
Clinical Nurse Kasey Calvert is the first nurse to be certified in Australia after completing the training program designed in Queensland to expand the nurse colposcopy model of care.
Gold Coast University Hospital is currently the only Queensland-based facility offering the program. Previously, nurse colposcopists had to train overseas to obtain their qualifications.
Colposcopy is a potentially lifesaving procedure undertaken to detect cancers after a woman returns an abnormal pap smear.
The nurse-led service has had an increase in referrals to the colposcopy clinic since 2017, after Australia introduced primary HPV triage as a more effective method for cervical screening.
"With three trained nurses, there is essentially no wait time to undergo a colposcopy and women on the Gold Coast can be seen straight away," Kasey said.
"My rigours training included logging hundreds of hours, providing care to more than 1000 patients, and performing biopsies and LETZ procedures (treatment for abnormal cells by removing an area from the cervix), as part of the year-long program.
"Everybody that walks through the door does not want to be in this kind of environment, getting such an intimate procedure. Knowing that we can help patients feel more comfortable by providing a better experience through continuity of care, is a big part of our role," she said.
"I'm proud to be paving the way for other nurses within the department and in Australia."