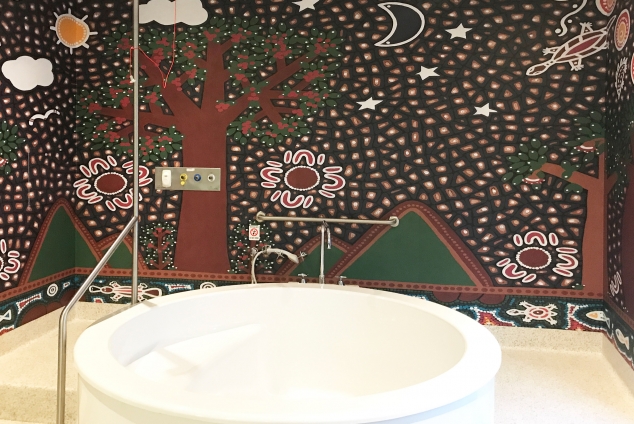 Gold Coast Health recently unveiled new artwork in one of the Gold Coast University Hospital birth suites in an effort to make its facilities more culturally appropriate for Aboriginal and Torres Strait Islander families.
With 180 Aboriginal and Torres Strait Islander babies born at Gold Coast University Hospital each year, the simple idea to transform a birth suite is intended to help expectant mums feel more comfortable in a hospital environment.
Quandamooka woman and Gold Coast mum Emily Webb was the first Aboriginal woman to use the suite when she gave birth to her fifth child, son Ned, on 8 July.
"I thought the wall art was beautiful and it made me happy and I felt really comfortable. It's great that the hospital has an understanding of Aboriginal culture," Ms Webb said.
Hazel Brittain, Service Director of the Women, Children's and Newborn service area, said culturally appropriate and safe care is important for the women of the Gold Coast.
"We're aiming to build stronger links with the Aboriginal and Torres Strait Islander community and organisations to ensure that we are delivering culturally appropriate care to women at an incredibly beautiful and vulnerable time of their lives.
"Bringing babies into the world in a safe and culturally respectful environment can have a positive impact as we work to halve the gap in mortality rates for Aboriginal and Torres Strait Islander children under five," Ms Brittain said.
"We recently had an Aboriginal midwife join our growing Midwifery Group Practice and she's playing a key role in helping educate our team on how to deliver culturally safe care to Aboriginal and Torres Strait Islander women on their pregnancy and birthing journey.
"Plus, she's also mentoring Indigenous students so that we can grow our Aboriginal and Torres Strait Islander workforce," Ms Brittain said.
The painting by Gold Coast Aboriginal artist Narelle Urquhart shows community coming together to support and celebrate birth and takes in the beauty of the region's natural surroundings including land, coast, mountains and diverse inland areas. The centrepiece Lillly Pilly tree reflects the good fruit of the human spirit from generation to generation, and the sun and moon represent eternal life.