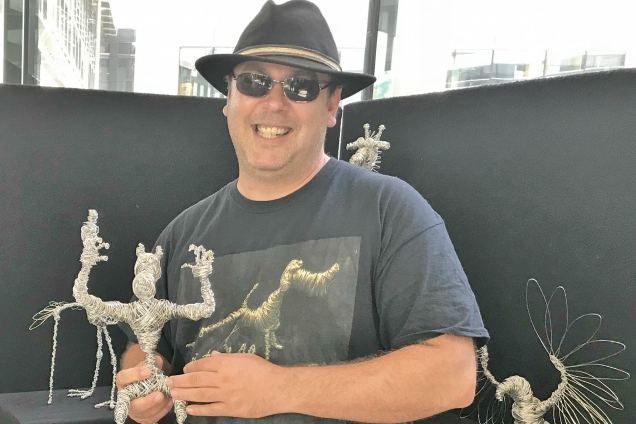 The foyers of Gold Coast University Hospital and Robina Hospital are once again alive with creative artworks by people living with mental illness as part of annual Mental Health Week celebrations.
The annual ArtBeat exhibition culminates on Friday with a music and arts festival which aims to promote the importance of positive mental health and wellbeing at home, at work and at play.
Tim, whose artist name is Twisted Murf, lives with bipolar and is exhibiting for the first time as a profile artist with 15 wire sculptures on display.
ArtBeat is a different platform for Twisted Murf, who usually hides his eclectic pieces in parks across the Gold Coast with a tag inviting the 'finder' to share their discovery on his Facebook page, where he also gives hints to their locations.
"I've been making wire sculptures for 11 years now. When I started I would make a small dragonfly in 40 minutes to an hour. Now I can make it in under 10 minutes. The big giraffe took a few days," Tim said.
Art is a major part of Tim's stability and mental wellness – he uses 6kg of wire a month.
This year's ArtBeat event includes the launch of a 96-page coffee table book which documents the hope and recovery of some of its patients living with mental illness through paintings, sculpture, song writing, poetry and more, across the past five years.
Gold Coast Health Board Chair Ian Langdon said the publication was a symbol of hope and healing.
"The ArtBeat book is an illustration of the aspirations of individuals overcoming personal challenges with the support of dedicated mental health service staff who have a passion for applying music and art therapy as an important healing aid," Mr Langdon said.
"ArtBeat is an excellent example of how care can be provided not only with skill but importantly, with compassion."
During Mental Health Week, people across Queensland come together through events, conversations and activities to value mental health; their own, that of loved ones, friends and colleagues, and people in our communities that need support.