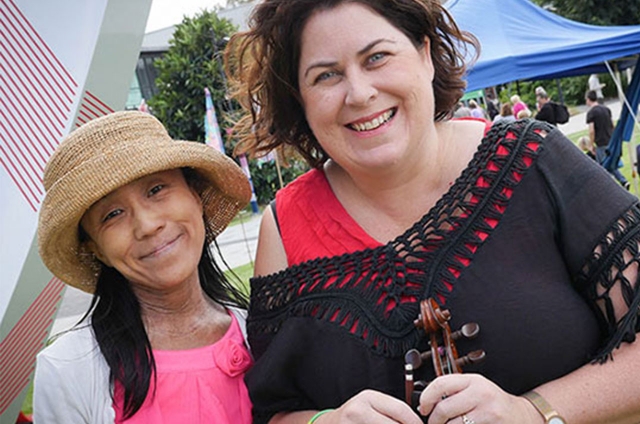 A community event at Gold Coast University Hospital (GCUH) today provided a platform for people living with mental illness to celebrate their creative strengths.
ArtBeat is a music and arts festival organised annually by Gold Coast Health's Mental Health Recovery Service to mark Mental Health Week.
More than 60 paintings, sculptures and drawings were on display in the main foyers of GCUH and Robina Hospital and a music festival in the parklands behind GCUH featured performances from about 20 mental health consumers and staff, a free BBQ and more.
Creative Artisan Helen Mason and Music Therapist Madeline Bridgland said empowering people living with a mental illness to use their artistic skills could be a vital step in recovery.
"Creativity is such a great therapeutic outlet," Ms Mason said.
Miss Bridgland said performers would range from solo acts to bands of various genres such as rock, jazz, indie and pop music.
"For some this will be their first time performing in public, while others have joined us in previous ArtBeat events," she said.
"Music is a tool that anyone can use to maintain mental health and for many of the performers, music therapy has played an important role in facilitating their recovery.
"ArtBeat is now a major event on the mental health team's calendar. It provides a valuable opportunity for everyone to socialise, listen to music and see artworks and join in the name of raising awareness and reducing stigma," Miss Bridgland said.
Hospital visitors and the general public can also join in ArtBeat by voting in the People's Choice award within the art exhibition.
Gold Coast Health has joined with non-government partners including the Mental Illness Fellowship Queensland, Headspace, Gold bridge, Active & Healthy Lifestyles and Ozcare, to provide a wide range of information and support at the ArtBeat music festival.
In 2015-16 Gold Coast Health delivered 144,415 occasions of service through its mental health outpatient clinics, community-based services and outreach services. Mental health inpatient services at GCUH and Robina Hospital provided more than 47,800 bed days during 2015-16.
The health service has a 24-hour specialist mental health care phone number – 1300 64 2255.