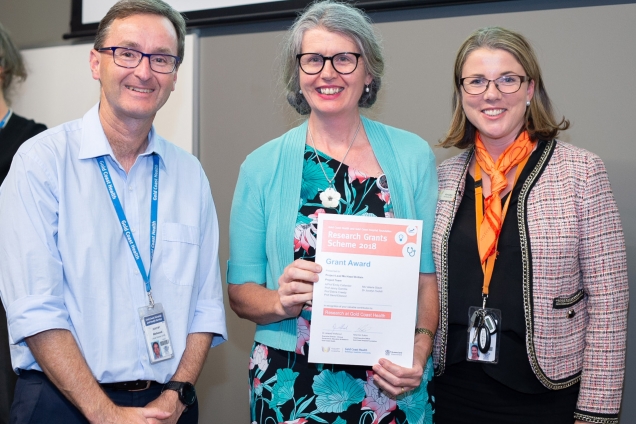 More than $1 million in grants were today awarded to Gold Coast Health clinicians and researchers for research projects that will improve the health care delivered to Gold Coasters.
A total of 15 research projects were selected for funding up to $100,000 each through a Gold Coast Health and Gold Coast Hospital Foundation funded scheme.
Dr Jeremy Wellwood, the Executive Director of Clinical Governance, Education and Research at Gold Coast Health, congratulated the research teams of the 15 successful Research Grants Scheme 2018 projects.
"My sincere congratulations to the successful grant applicants whose projects will no doubt help us to deliver cutting edge health care here on the Gold Coast well into the future," Dr Wellwood said.
"We are building a strong research culture and, through these grants, the Foundation has become a vital supporter of this culture.
Foundation Chief Executive Officer Kim Sutton said projects would no doubt lead to important advances in health care that would benefit the community.
"We've seen first-hand the practical ways that research adds value to our public health system, which is why we're so proud to support this scheme," Ms Sutton said.
"We worked with Gold Coast Health to develop this grants scheme so we could focus on seed funding for innovative small and large health and clinical research projects.
"Our goal in providing this funding is to support Gold Coast Health clinicians to continually advance health care services and medical outcomes for patients," Ms Sutton said.
Successful research grant recipients include pilot studies and projects to:
predict PTSD and depression following a traumatic injury
reduce morbidity and mortality due to sepsis in children
investigate whether the Meningococcal B vaccine prevent gonorrhoea
consider the patient role in discharge medication strategies
use practice pedagogies to improve care for older people
use fluid resuscitation in emergency patients with sepsis and hypotension
involve carers in the hospital-care of family members with dementia
consider the impact of the 2018 Commonwealth Games on Gold Coast emergency departments
partner to improve nutrition for patients in hospital
enhance nutrition for trauma patients
have patients participate in bedside handover tool development
determine 'best buy' obesity interventions
consider oral feeding safety in children on nasal high-flow respiratory support
assess the effects of pulmonary rehabilitation with occupational therapy on daily activities.
The Research Grants Scheme winners were announced as part of the Gold Coast Health Research and Quality Week which ran from 12 to 16 November 2018.