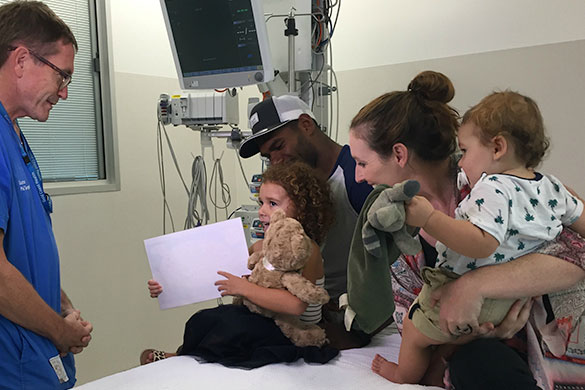 When little Mylie Walker arrived at Gold Coast University Hospital's Paediatric Emergency Department struggling to breathe little did she know she was about to become a milestone patient.
The four-year-old was having an asthma attack and not responding to initial treatment so clinicians transferred her to the Children's Critical Care Unit where she became the team's 1000th patient.
The dedicated children's critical care team has been an invaluable addition to GCUH since opening in February 2014, with countless families spared the heartache of having to travel or relocate to Brisbane to be near their sick children.
Mylie's mum Casie said the Merrimac family was grateful to be able to receive treatment in high-quality facilities minutes from home.
"All the staff in the Children's Critical Care Unit engaged really well with Mylie and made her feel at ease, which is the most important thing," she said.
GCUH Children's Critical Care Unit Director Dr Phil Sargent said providing highly specialised paediatric care on the Gold Coast had made a significant difference to local families at an already stressful time of their lives.
"While no parent wants to see their child in a unit such as ours, this milestone does highlight the enormous impact we are having on the lives of so many Gold Coast families," he said.
"Every patient we are able to care for at GCUH is one less family that has been forced to endure the emotional and financial turmoil of having to travel to Brisbane to be with their loved one."
Prior to the opening of the Children's Critical Care Unit, about 500 of the 1000 patients cared for in the unit this year would have required transfer to Brisbane hospitals.
Dr Sargent said demand for the unit had been driven by a high number of referrals from neighbouring regions, an increase in surgical activity at GCUH and the implementation of an early intervention approach.
"This has allowed us to treat children early rather than wait several hours for transfers to Brisbane hospitals," he said.
"We are also not only meeting our community's needs but also the needs of other regions, with about 20 per cent of our patients being retrievals conducted from outside our boundaries including Ipswich, Logan, northern NSW and other facilities such as Pindara and Allamanda private hospitals."