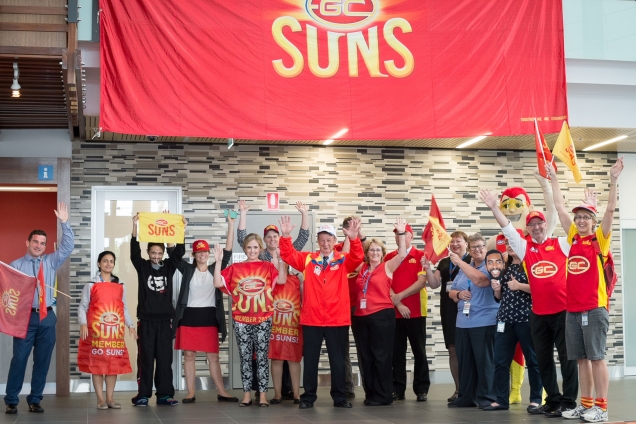 Gold Coast Health and Metro South Health are facing off ahead of the opening round of the AFL season when the Gold Coast Suns play Brisbane Lions this Saturday at Metricon Stadium.
The bets are on with both Hospital and Health Service Board Chairs (and avid AFL supporters) Ian Langdon and Terry White entering a wager between the two cities' premier sporting teams.
Mr Langdon and Mr White will rally with Gold Coast Health and Princess Alexandra Hospital doctors, nurses, allied health professionals and administrative staff for a pre-game 'Face-Off' photo that will feature on their respective Facebook and Twitter pages in the lead-up to the big game.
"If the Gold Coast Suns win this Saturday (25 March) then the Suns flag will fly from the Princess Alexandra Hospital flag pole the following week, and if the Brisbane Lions win, which we know won't happen, we'll fly the Lions flag outside the Gold Coast University Hospital for the week," Mr Langdon said.
Mr White said while he didn't expect to attend the Gold Coast University Hospital in the rare event that the Lions be defeated, he would raise the Suns flag himself.
"Given the Brisbane Lions has been the most successful AFL club of the last decade (2001–2010), having won three consecutive AFL Grand Finals (2001, 2002 and 2003) I expect to be celebrating a win this Sunday and look forward to welcoming Ian to PA Hospital to raise the Lions flag on Monday," Mr White said.
"This friendly flag wager with our counterpart health service is one small step in demonstrating our pride in being a South-East Queensland health service, here to care and treat the people of south Brisbane, Bayside and Logan."
Mr Langdon said the wager reflects his desire to seize opportunities to align Gold Coast Health with Gold Coast sporting teams and the Gold Coast community at large.
"Gold Coast Health is the largest employer on the Coast with over 8,000 staff and with annual expenditure into the local community of more than $1.3 billion each year," Mr Langdon said.
"The more we immerse ourselves into the fabric of the Gold Coast, the more the Gold Coast community will remember we are part of their community and we certainly love being part of a community with such great sporting teams."