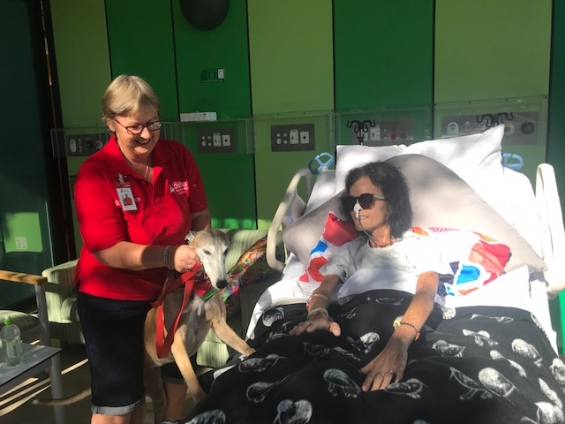 A Delta Society Australia Therapy Dog is playing a very special role in enhancing the well-being of patients in Robina Hospital's Palliative Care Unit.
'Kensi' has begun fortnightly visits to the unit and the rescued nine-year-old greyhound is already making a huge impact.
Nurse Unit Manager Maureen Tapfield said the Delta Pet Therapy program had enhanced the quality of life for the patients within the unit.
"Emotionally the pet's presence provides a calming effect, lifting the mood of the patients when they are experiencing very difficult times," Ms Tapfield said.
"When you watch patients and their families interact with Kensi, they will often smile or even laugh which is so important to promoting a greater self-esteem.
"Her presence also gives patients and their loved ones a brief but welcome change to the hospital environment."
Patients like Philip said the fortnightly visit helped ease the pain of his disease.
"I'm in a lot of pain and it helps ease that," he said.
Delta Society accredited therapy teams, consisting of a volunteer and their dog, regularly spend quality time with Gold Coast University and Robina hospital patients thanks to funding from The Improvers 2015.
All dogs involved in the Delta Society's therapy program are family pets who have undergone temperament testing.