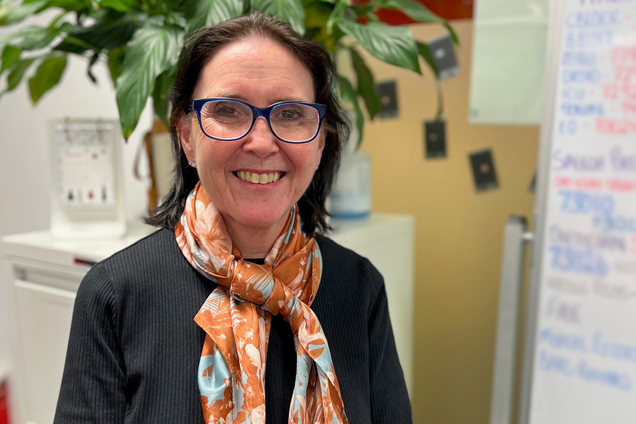 Deb has worked at Gold Coast Health for more than 15 years. Originally from Melbourne, where she worked as a switchboard operator at The Royal Melbourne Hospital, Deb started at Gold Coast Health in January 2008 as an operator before moving into a role in the Administration Team in 2011.
Deb moved to the Gold Coast University Hospital when it opened 10 years ago, in 2023 where she now manages a team of 33, on a 24/7 roster, across the Gold Coast University and Robina Hospitals. The team is made up of people of diverse backgrounds and ages, and while you might think this team would be stressed, from the sheer volume of calls it takes, the environment is positive and happy, where everyone agrees that Deb is the glue that holds the team together.
"I really enjoyed working in switchboard as an operator, helping the callers, being a vital part of hospital operations and taking emergency calls and broadcasting codes. The coordinator role is both challenging and rewarding. I have great staff who do a great job, but they can also face their own challenges with difficult callers," Deb said.
The calls that are managed by the switchboard range from police enquires, funeral directors, internal staff, outpatients calling about appointments or changing appointments and from people in the community enquiring about loved ones in care.
At the height of the Covid-19 Pandemic, the team was taking more than 165,000 calls a month with many calls being from distressed and anxious people looking for answers and information.
"When people call in distress, we need to keep our cool and connect them to the right area," she said.
Although Deb is not medically trained, she has picked up some skills that have come in handy.
"Sometimes people will call up in a panic, other times they use a doctor's initials, and sometimes they just can't think of a word and will say I need the wee-wee doctor. It's all about connecting people to the right place as soon as we can, so knowing that the 'wee-wee' doctor is urology is an important skill to have." Deb laughs.
"To me it's like a puzzle, and the switch is a piece of the puzzle, and we need to act fast especially in an emergency. That is our piece of the puzzle, and I am enjoying every moment of my time working here."