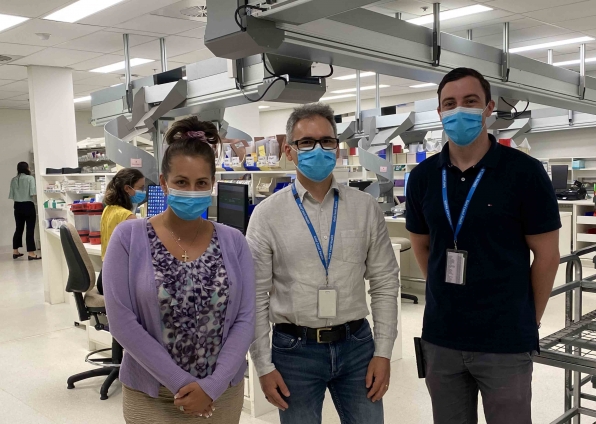 Three pharmacists share their career stories as we mark the role and contribution pharmacists make to Gold Coast Health ahead of World Pharmacists Day on 25 September.
International sporting events and a worldwide pandemic have shown Rachael Raleigh there's more to a career in pharmacy than she could have ever imagined.
"I am grateful I chose pharmacy as a profession, but I certainly never thought that this is what it would it look like. And I never thought there would be a pandemic," the Advanced Pharmacist said.
"I have been really lucky because I played a part in setting up the Commonwealth Games pharmacy and now the COVID-19 vaccination project as well as a number of other projects.
"I never thought I would have as many opportunities as I have had in the hospital pharmacy world to run with projects and design services and manage and lead. I never thought about that aspect of pharmacy. I was just focused on being a clinical hospital pharmacist and talking to patients."
September 25 is World Pharmacists Day when its international organisation celebrates the profession. This year's theme is 'Pharmacy: Always trusted for your health'.
Advanced Pharmacist Marian Pasere works with the mental health service across Robina and Gold Coast University hospitals, plus community-based services, and has post grad qualifications in psychiatric pharmacy.
Originally from Romania, every day he is collaborating with inpatient teams including consultant liaison psychiatrists, to find the most appropriate treatment plan for a patient.
"The thing I love about my job is the ability to translate theoretical knowledge into practical workable pharmacological interventions that improve a patient's quality of life," Marian says.
Stacy Harris is a Senior Pharmacist within the Surgical and Critical Care team on Gold Coast University Hospital (GCUH) wards.
Stacy's day-to-day sees the prioritisation of patient discharges and working with frontline staff to ensure optimal treatment plans.
"It's one thing to be able to use medications. To successfully treat your patients, you must get the right medication in the right spot, at the right time, for the right person," he said.