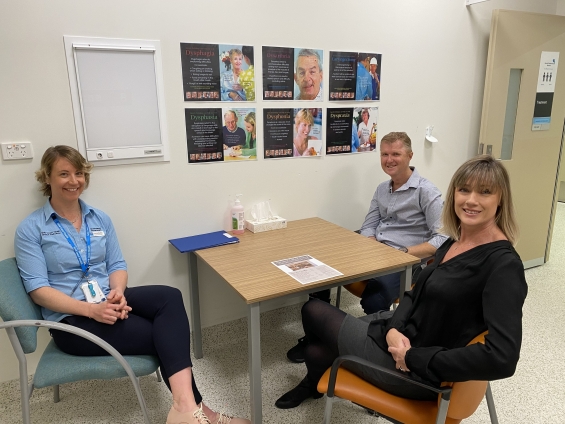 Kent Druery had a fast-paced career managing shopping centres, trained for triathlons, commentated at sporting events and was raising two teenage boys with wife Julia when he suddenly lost the ability to communicate four years ago.
"He had been running fevers all afternoon at work so he came home and by the next morning he was in incredible pain so we took him to the hospital," Julia said.
"By the Sunday night his entire speech had gone and the use of his right arm had gone. They needed to operate and found there was two abscesses on his brain."
The resulting brain injury left Kent with aphasia, a language impairment which effects the production or comprehension of speech and the ability to read or write.
"He couldn't speak at all, he couldn't move, he couldn't do anything for himself, he had no idea what had happened to him, he was very scared and very confused. He couldn't communicate with us at all," Julia said. "He was a really effective communicator prior to being sick and once he had his brain injury, everything just left."
Kent embarked on rigorous speech pathology regime. While he was learning to speak he had two relapses and had to start over.
"Originally I would speak with one-word answers. Four months, two sessions a day, five times a week, and slowly I learned to speak. I learned two words, three words, and finally I learned to speak," Kent said.
The Druerys said speech pathology had made a huge difference in Kent's rehabilitation.
"It's given me my husband back," Julia said. "We have gone from him not even being able to get a yes or a no out… to being able to have confident conversations. You always go through life realising that something could happen but something such as losing your speech is nothing I have ever considered."
This year Speech Pathology Week, 23-29 August, is highlighting the theme Communicating with Confidence, and that's what senior speech pathologist in neurological rehabilitation at Robina Hospital Annabelle Vaughn hopes the service can do for its clients.
"Speech pathologists work with a wide range of communication impairments. Working in rehabilitation we get to spend that time everyday working with people and restoring their confidence in communication and Kent's been one of the patients whose story has really stayed with us," she said.
"Communication is something we all take for granted until it's something we can't do anymore. And to be able to be a part of giving that confidence back to people and enabling them to be able to advocate for themselves is invaluable. It's a different journey for each person and we modify everything for every patient who comes through and we have to make sure everything we do is relevant to them."
Kent is giving back to the health service, returning to Robina Hospital in his role as an aphasia peer support volunteer to help others who are learning to communicate again.
"It gives them hope they will be able to talk again, it enables them to have a chat with someone who has been in a similar position and give them the ins and outs of what it's like to walk in those shoes," Annabelle said. "For him to be able to share that, it's amazing and we are so lucky to have him be able to come back and give back to the health service."

Communication disability facts
The Australian Bureau of Statistics has established that 1.2 million Australians have communication disability. Communication disability affects a person's ability to understand and be understood by others.
• Levels of limitation range from mild to profound and can be temporary or last a lifetime.
• Children and older people make up the majority of people with communication disability.
• Children are more likely to have profound/severe communication disability than older people.
• People with communication disability were less likely to have a non-school qualification (42%) than people without communication disability (61%).
• Thirty-eight percent of people with communication disability are participating in the labour force compared with 80% of people without communication disability.
• One in 7 people with communication disability need formal assistance with communication.
• Half of all people who need formal assistance with communication have an unmet need for this assistance.
• Three in 5 people who have an unmet need for formal assistance with communication were children.
For information about Speech Pathology Week visit www.speechpathologyaustralia.org.au/week